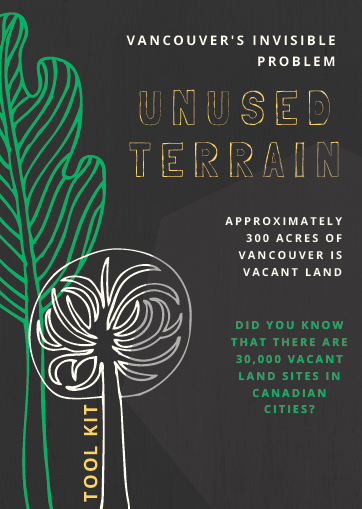 Do you have a project idea for a vacant land site in your community? Your idea must meet our three simple conditions:
Temporary – A "pop-up" project that is one to 12 months in length, with a possible option to renew
Portable – Projects need to be easily moved off the site, no digging into the ground.
Fit within our 5 pillars of social and environmental change which leverage Vancouver's Greenest City Action Plan. These are: SOCIAL, BIODIVERSITY, ART, FOOD or CLEAN ENERGY. Below you will find more information about these pillars.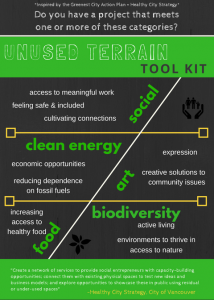 1. SOCIAL
Overview: Increase social capital and strengthen community
Potential activation ideas: Wi-fi pop-up park, hammock park, tiny-homes, ice rink, roller-blade park, garden, and many more.

City of Vancouver Greenest City Goals (Healthy City Strategy)
MAKING ENDS MEET AND WORKING WELL
Goal: Our residents have adequate income to cover the costs of basic necessities, and have access to a broad range of healthy employment opportunities (Healthy City Strategy).
Key items: thriving economy, a hub for new technology start-ups and a leader in both green jobs and enabling social enterprise. Income is a strong determinant of health and well-being.
Targets:
Reduce the city's poverty rate by 75%

Increase median income by at least 3% every year
Actions:
(a) Encourage the development and/or enhancement of social procurement frameworks among the Leadership Table members

Create a network of services to provide social entrepreneurs with capacity-building opportunities; connect them with existing physical spaces to test new ideas and business models; and explore opportunities to showcase these in public using residual or under-used spaces
BEING AND FEELING SAFE AND INCLUDED
Goal: Vancouver is a safe city in which residents feel secure.
Key Items: Belonging, safety in our communities is vital parts of well being. Feeling connected and apart of our community. A strong sense of belonging is associated with better self-reported physical and mental health.
Targets:
Increase Vancouver residents' sense of belonging by 10%

Increase Vancouver residents' sense of safety by 10%

Make Vancouver the safest major city in Canada by reducing violent and property crime every year, including sexual assault and domestic violence.
CULTIVATING CONNECTIONS
Goal: Vancouverites are connected and engaged in the places and spaces that matter to us.
Key Items: Relationships are at the heart of a good life. Social networks critical source of support. We draw on our social networks for vulnerabilities. Beyond relationships is is about participation in civic life- being engaged in decisions that impact and share our surroundings. Personal agency. Being engaged in community. Does the project help create connections among neighbours?
Targets:
All Vancouverites report that they need at least 4 people in their network they can rely on for support in times of need (** only 50% of adults have 4 people to turn to for help)
Actions:
Create a Sharing City framework and strategies, and identify other key public and private partners.

Examine regulations, policies and processes that affect our relationship with and between residents- past, present and future.

Build on the Engaged City recommendations to create new social connection initiatives, connect existing initiatives, and magnify their collective impact in collaboration with partners

.
2. BIODIVER'CITY'
OVERVIEW: Utilize vacant land sites as sites to increase green space and strengthen biotic interactions in urban ecosystems.
POTENTIAL ACTIVATION: Pop-up park, orchard, green space, bee houses, and many more!
CITY OF VANCOUVER, GREENEST CITY GOALS, HEALTHY CITY STRATEGY:
ACTIVE LIVING AND GETTING OUTSIDE
Goal: All Vancouverites are engaged in active living and have incomparable access to nature.
Key Items: physical activities. Natural spaces in an urban setting also influence the well-being of entire communities. Easily accessible green spaces can improve social cohesion by providing sites for interaction and shared activities. Fostering a sense of community and providing psychological benefits to its members. Green spaces are vital for ecosystems functioning and well being of our planet. Encourage outdoor play. Access to high quality parks, public spaces, and infrastructures for people throughout their lives.
Targets: By 2020: all Vancouver residents live within a five minute walk to of a park, greenway, or other green space.
ENVIRONMENTS TO THRIVE IN
Goals: Vancouverites have the right to a healthy environment and equitable livable environments in which they can thrive.
Key Items: Healthy, livable urban environments are characterized by complete, compact and connected communities. Key components include a well-planned built environment, a sustainable natural environments, a thriving economic environment and vibrant social environments. There are many interconnected ways in which healthy urban environments lead to better physical and mental health outcomes; enhanced engagement and connectedness; and abundant opportunities and thrive and be sustained in the face of local, regional and global challenges. *Access to healthy environments is not yet equitable.
Targets: Add to the Greenest City Action Plan a biodiversity target and a target related to toxins prevention
Quick Start Action:
Integrate biodiversity and toxins reduction strategies into the Greenest City Action Plan.
CITY OF VANCOUVER, GREENEST CITY ACTION PLAN:
ACCESS TO NATURE

6/ Vancouver residents enjoy incomparable access to green spaces, including the world's most spectacular urban forest.
Targets: All Vancouver residents live within a five minute walk of a park, greenway, or other green space by 2020.
CLEAN AIR

9/ Breathe the cleanest air of any major city in the world.
Target: Always meet or beat the most stringent air quality guidelines from Metro Vancouver, British Columbia, Canada, and the WHO.
3. ART
OVERVIEW: Using vacant land sites as canvases for culture, disruption, and creativity for social change.
POTENTIAL ACTIVATION: Art pieces, pop-up galleries, cultural performances and ceremonies,  documentary showings, and many more.
CITY OF VANCOUVER, GREENEST CITY GOALS, HEALTHY CITY STRATEGY:
EXPRESSING OURSELVES
Goal: Vancouver has a diverse and thriving cultural ecology that enriches the lives of residents and visitors.
Key Items: Arts and culture is critical to building a vibrant, livable and healthy city. Arts and cultural events range from large scale performances: rock concerts, operas, art galleries, and exhibits allows us to observe and engage with art, to street festivals and small-scale community art projects. Art and cultural activities are an antidote to social isolation. Participation in arts and culture increase self-confidence. Community based arts projects can empower people to express their ideas and provide opportunities for people to make their voices heard. At the community level, arts and cultural events foster the development of social capital and build bonds between different cultures and generations. Activities such as street festivals and public performances are a way to celebrate and cultures and contributions of diverse communities across the city.
Target: Increase public participation and community engagement in arts and culture by 25 per cent over 2014 levels.
4. FOOD
OVERVIEW: Utilizing vacant land sites to accelerate access to local food production and procurement.
POTENTIAL ACTIVATION: Orchard, community garden, local food demonstration site, pop-up kitchen labs for social entrepreneurs.

CITY OF VANCOUVER, GREENEST CITY ACTION PLAN:


LOCAL FOOD

10/ Vancouver will become a global leader in urban food systems.
Targets: Increase city-wide and neighbourhood food assets by a minimum of 50% over 2010 level.s.
5. ENERGY
OVERVIEW: Using vacant land to increase renewable energy resiliency and combat climate change.
POTENTIAL ACTIVATION: Energy storage, sites to increase or leverage Community Energy Plans, energy research, composting, electric energy charging station, climate change demonstration site, sea level awareness hub, and many more!

CITY OF VANCOUVER, RENEWABLE CITY STRATEGY (2015-2050)
CITY OF VANCOUVER SERVES AS A CATALYST
S.1 The City will adopt a comprehensive approach to the consideration of climate change as part of its service planning
S.3 The City will develop a framework to assess how City enabling tools may be used to support the transition to 100% renewable energy
S.4 The City commits to keep abreast of financing mechanisms available that enable the delivery of renewable energy technology and other green infrastructure
THE ECONOMIC OPPORTUNITY
E.1 Support innovators through business and technology, research, incubation, acceleration, and demonstration
E.3 Target key events and organizations that represent clean tech and renewable energy to strengthen Vancouver's economy
CITY OF VANCOUVER, GREENEST CITY ACTION PLAN
2/ ELIMINATE DEPENDENCE ON FOSSIL FUELS
Work with partners in the city to build new neighbourhood-scale renewable energy systems