If you've ever been to Kutná Hora in the Czech Republic then chances are you'll be familiar with their most famous tourist attraction: The Church of Bones. This is not just a name either The Church of Bones is literally made out of human bones. In the 13th century CE, a priest came home from Palestine with a pocketful of soil that he then sprinkled in the cemetery that surrounded the Chapel of All Saints. From that point on the graveyard was an overwhelmingly popular burial site (especially for aristocrats). In fact it was so popular that they quickly ran out of space so they began exhuming bodies in order to make room for newcomers. The remains that were exhumed from the graveyard were placed in the chapel. The bones grew so many that by 1870 František Rint, a woodcarver, was commissioned to use these bones as decoration for the chapel and to "create a reminder of the impermanence of human life and inescapable death"(site).This is exactly what he did.
(site)
(site)
(site)
(site)
Even though this may seem very off topic for a history of urban development class it is a solution to aid in the functionality of this city. By means of being able to store upwards of 40,000 human remains in one chapel. Besides this, it is an undeniably beautiful (albeit creepy) piece of historical architecture that brings tourists in from all over the world. And The Church of Bones is not the only example of its kind.
Paris had a similar problem, it was such a popular city to live and die in that they too needed a solution for the large amount of human remains within the city. Therefore they built catacombs, and between the years 1786-1788 virtually all bodies in Paris were exhumed from their burial spots and placed in the catacombs. It somewhat resembles (to a lesser extent) the Church of Bones in the Czech Republic. However the catacombs hold upwards of an astonishing 6 million bodies.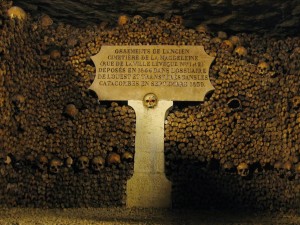 (site)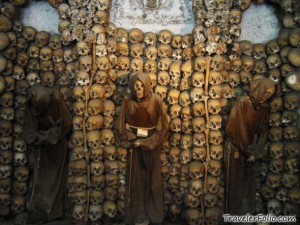 (site)
(site)
So it is easy to see that the catacombs of Paris are less artistic than the Church of Bones however both places managed to solve the same problem. They needed a new place to store or bury the exhumed bodies that were taking up all of the desirable grave plots so they found ways to not only store the remains but to turn them into points of interest for the cities themselves. Now they are seen as tourist destinations and there are people today who want to be part of these displays when they pass, which is in fact possible. Would you be interested in being a part of one of these displays?
SOURCES
http://www.outsideprague.com/kutna_hora/bone_church.html
Notes from ANTH 430 Tatiana Nomokonova. Nov. 2015
Photos:
https://fullbodytransplant.wordpress.com/2010/10/03/chthon-and-the-sedlec-ossuary/
http://sciencefactorama.blogspot.ca/2015/01/caves-of-human-corpses-catacombs-of.html
http://www.opposingviews.com/i/gallery/entertainment/cathedral-made-bones-incredible-sight