TRADITIONS OF YOGA IN PRACTICE: Studio Yoga Series 2022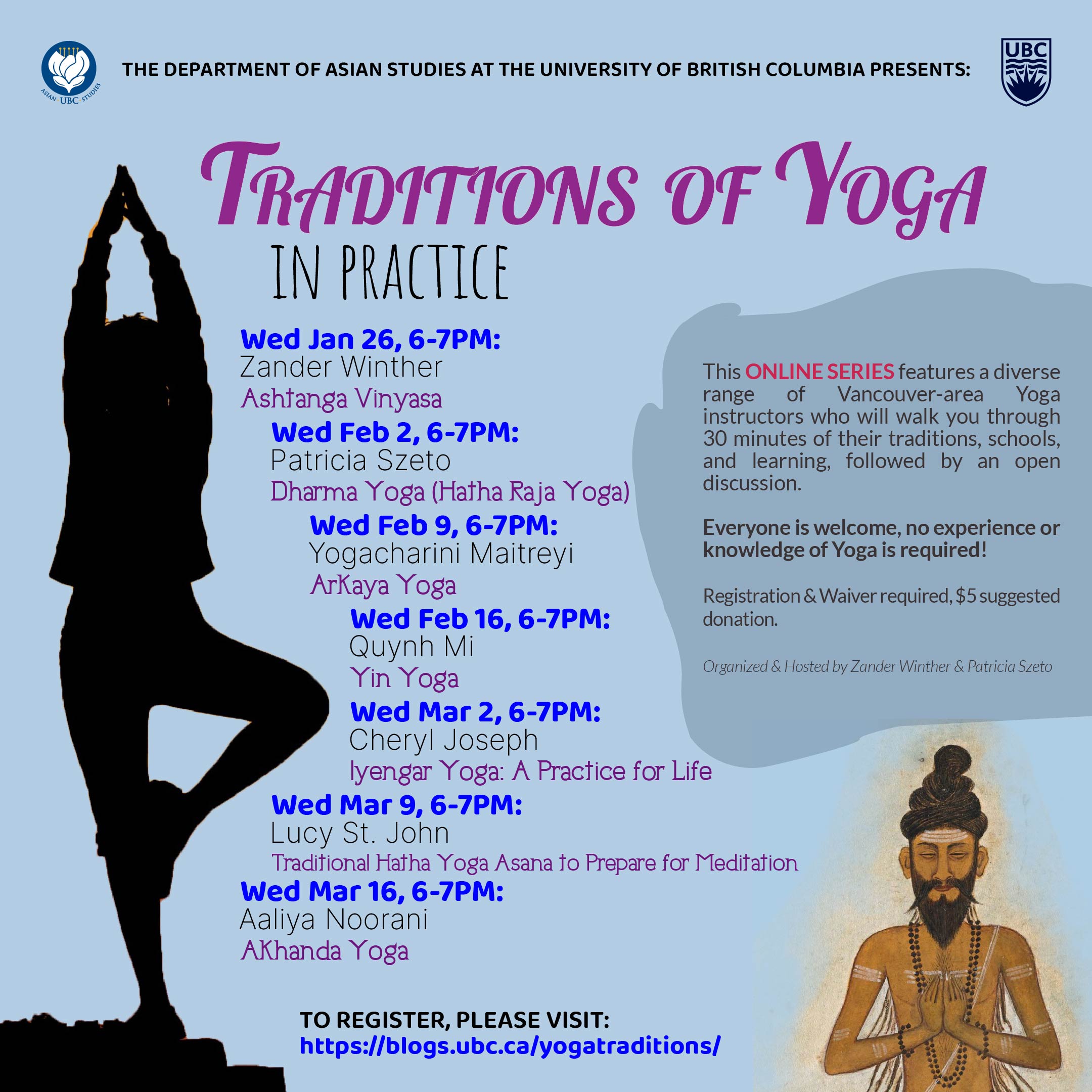 Join us in this weekly online series featuring a diverse range of Vancouver-area Yoga instructors from different lineages and styles of yoga!
Organized and hosted by Zander Winther and Patricia Szeto, these sessions will take place on Wednesdays, 6-7pm. Each week, guest instructors will walk you through their traditions, schools, and systems of learning, followed by an open discussion.
Everyone is welcome, no experience or knowledge of Yoga is required! 

We ask for registration and liability waiver prior to participation, and a donation of $5 is suggested for the instructors.
FEATURED YOGA INSTRUCTORS:
January 26, 6-7pm 
Zander Winther
An Introduction to Ashtanga Vinyasa Yoga 
Join Zander Winther for an introduction to the Surya Namaskara sequence from the Ashtanga Vinyasa tradition!
Zander Winther is a local yoga teacher, teacher training instructor and MA student in the Department of Asian Studies at UBC. He is the Teaching Assistant for the ASIA 210: Traditions of Yoga course.
zanderyoga.com
instagram.com/zanderyoga
---
February 2, 6-7pm 
Patricia Szeto
Dharma Yoga (Hatha Raja Yoga) 
Patricia Szeto is a 1000Hr certified Dharma Yoga teacher and the founder of West Coast Yoga School.  She continues to study with her Guru Dharma Mittra in New York City and the Dharma Yoga family around the world. She also studies traditional Kung fu, Tai Chi and Qi Gong.
patriciaszeto.com
instagram.com/pszeto
---
February 9, 6-7pm 
Yogacharini Maitreyi
Arkaya Yoga 
Yogacharini Maitreyi is teacher of Classical Yoga, Sattvic Tantra and founder of Arkaya. Her studies in India include many years at the Ananda Ashram, Shivananda ashram, and the Gurukulam of Dr. Swami Gitananda; her first guru was her grandfather.
arkaya.net
instagram.com/arkaya_awareness_centre
---
February 16, 6-7pm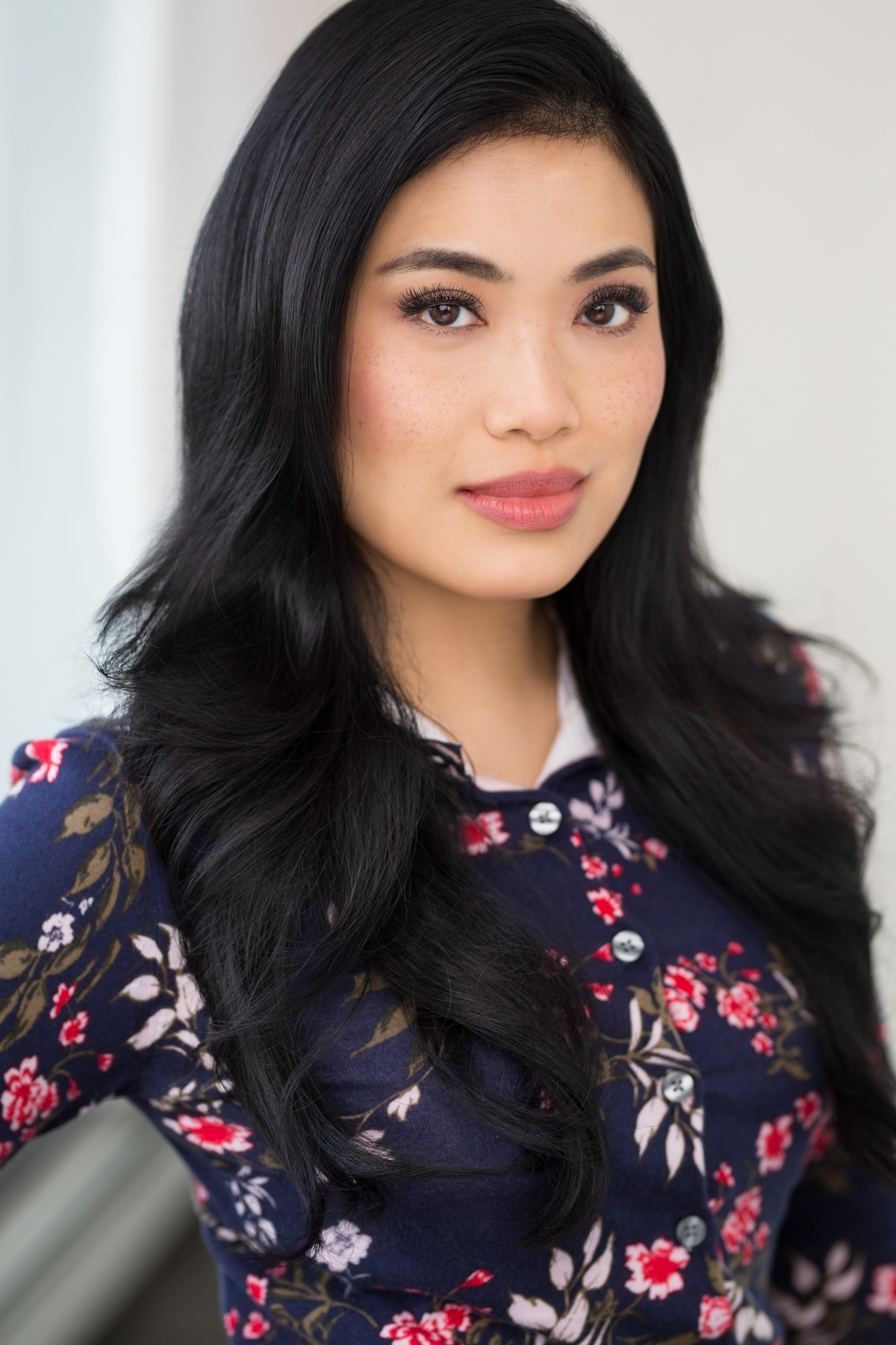 Quynh Mi
Yin Yoga
Quynh Mi was first introduced to yoga to when an acting teacher brought in a yoga teacher for a special workshop. This developed into a deep interest in the practice, eventually leading to her own path as yoga teacher. Quynh has been teaching multiple modalities of yoga, including yin, prenatal, hatha, power, flow and hot, since 2014. In addition to her 200-hour teacher training, some of her additional trainings include 50-Hour Yin with Bernie Clark, 85-Hour Prenatal with Teresa Campbell, 25-Hour Vinyasa Flow with Seane Corn, Meditation with Carolyn Ann Budgell, and Yoga Nidra with Michèle Denis.
---
March 2, 6-7pm 
Cheryl Joseph
Iyengar Yoga: A Practice for Life 
Cheryl Joseph is a Certified Iyengar yoga teacher and owner/director of The Yoga Space. Her lifelong path of yoga has included study in Pune with the Iyengar family; and she continues to study online with the Iyengar family as well as senior Iyengar teachers.
theyogaspacevancouver.com
instagram.com/cherylmjoseph

---
March 9, 6:15-7pm 
Lucy St John
Traditional Hatha Yoga Asana to Prepare for Meditation
Following in the footsteps of her grandfather, Lucy's passion for knowledge led her to India in 1996. There she was introduced to a yogic lifestyle; a 12-year study of Vedanta ~ ancient eastern knowledge from the Shankracharya tradition. She has been practicing Yoga & Ayurveda ever since. Considered a teachers' teacher, she has led more than 40+ Teacher Training Programs bringing a wealth of experience, story, and curiosity into the teachings.
integratedhealthcourse.com
instagram.com/lucystjohnyoga
---
March 16, 6-7pm 
Aaliya Noorani
Akhanda Yoga
aaliyanoorani.com
instagram.com/aaliyatamara/
---