TRADITIONS OF YOGA 2021: A WEBINAR SERIES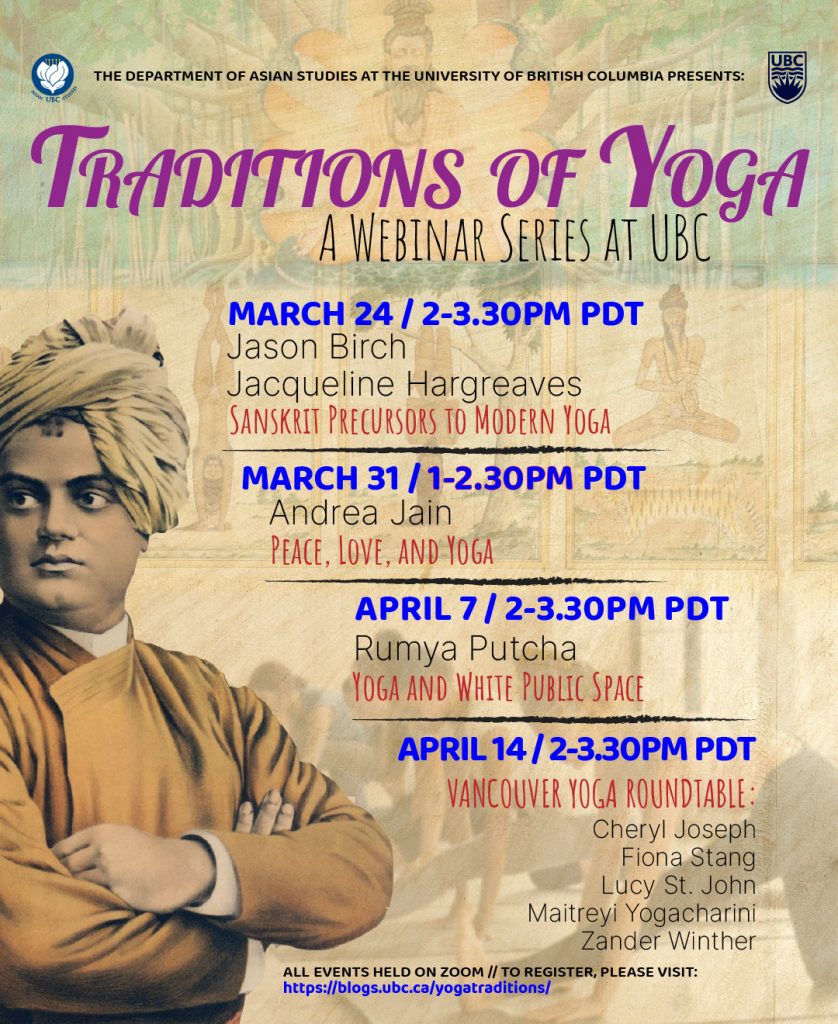 Today, postural yoga is practiced around the world, and has fostered a massive, multi-billion-dollar industry. But where did it come from? And how did it get here? That is, what were the historical contexts in which postural yoga first developed in South Asia? And how did certain colonial and postcolonial cultural "flows" lead to the globalized traditions found in today's yoga studios? And what is it doing here, now that it's here?
These are the questions that students are asking in ASIA 210: Traditions of Yoga, a brand-new course in the Dept. of Asian Studies at UBC. Given that these concerns are shared by yoga practitioners as well as South Asian diasporic communities, we are pleased to invite you to join UBC students this month for a WEBINAR SERIES on Wednesday afternoons in conjunction with the course, as we welcome international scholars to explore the traditions of yoga through historical, cultural, and critical lenses. We finish with a roundtable discussion on yoga in Vancouver.
All events are free ZOOM webinars and open to the public.
After each session, there will be a "virtual chai" reception reserved for students of the course.
TO REGISTER for the ZOOM Webinars, please visit:https://ubc.zoom.us/meeting/register/u5wqf-iorjwqHdCYbkJbzKbYQP8h-kEl46OG
FULL SCHEDULE: 
MARCH 24 / 2-3.30PM PDT
Jason Birch & Jacqueline Hargreaves
Sanskrit Precursors to Modern Yoga
CLICK HERE for more info
---
MARCH 31 / 1-2.30PM PDT
[please note different timing] 
Andrea R. Jain
Peace, Love, and Yoga
CLICK HERE for more info
---
APRIL 7 / 2-3.30PM PDT
Rumya S. Putcha
Yoga and White Public Space
CLICK HERE for more info
---
APRIL 14 / 2-3.30PM PDT
VANCOUVER YOGA ROUNDTABLE:
Cheryl Joseph
Fiona Stang
Lucy St. John
Maitreyi Yogacharini
Zander Winther
CLICK HERE for more info
---
Detailed Information:
March 24, 2-3.30PM PDT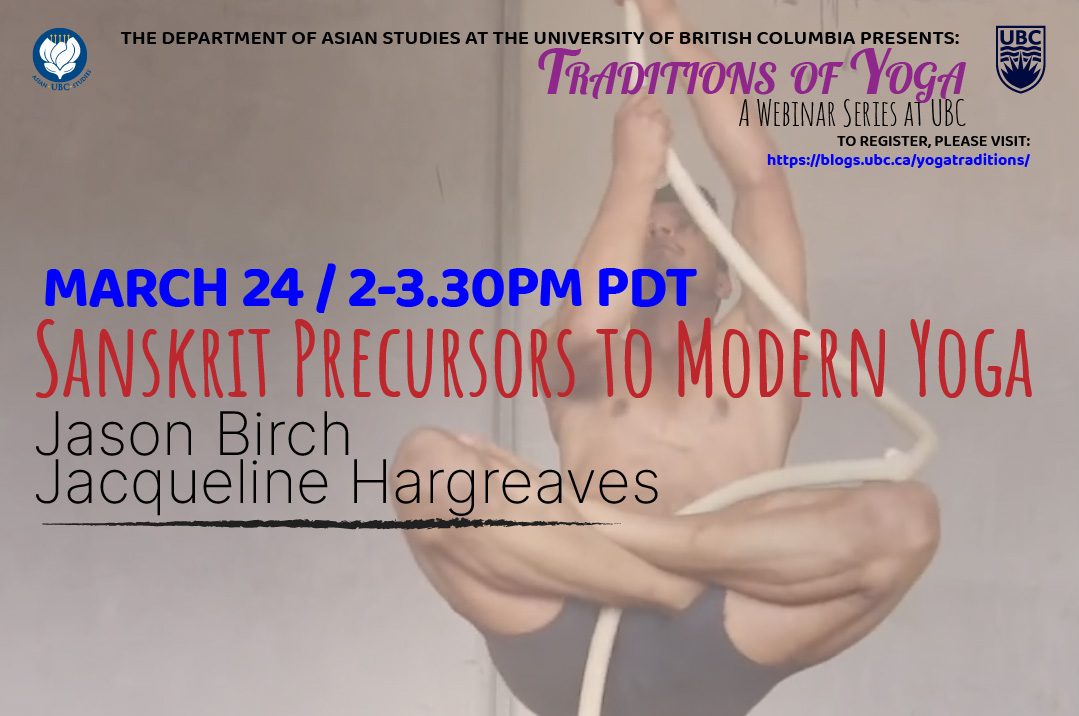 Jason Birch & Jacqueline Hargreaves
Sanskrit Precursors to Modern Yoga
This presentation will introduce public audiences to key Sanskrit texts that provide evidence of precursors to the formation of modern postural yoga. We focus particularly on the Haṭhābhyāsapaddhati, a Sanskrit text, likely composed in 18th-century Maharashtra, that provides an important glimpse into the practice of Haṭhayoga in India prior to British colonialism. Before the discovery of this text, it was thought that these dynamic postures were a synthesis produced by the rich physical culture of the Mysore Palace in the nineteenth century. The Haṭhābhyāsapaddhati offers new evidence that Haṭhayogins before this time practiced moving and strenuous āsanas, including some that required the use of rope and walls. We will explore the important roles that this and other Sanskrit texts played in the development of premodern Haṭhayoga techniques.
Our presentation will also feature a screening of sample footage from our digital multimedia reconstruction project that aims to bring to life the unique content of the Haṭhābhyāsapaddhati through a visual interpretation of the āsana section, along with Sanskrit recitation and English translation. By re-enacting the āsanas in a visual medium, which we have termed embodied philology, we hope to convey to modern yoga practitioners the significance of the Haṭhābhyāsapaddhati by demonstrating how this text locates moving and strenuous āsanas within the context of the premodern Haṭhayoga tradition.
Bios:
Jason Birch (DPhil, Oxon) is a senior research fellow for the Light on Hatha Yoga project, hosted at SOAS University of London and the University of Marburg. He is also a visiting researcher on the Suśruta Project at the University of Alberta (http://sushrutaproject.org). Birch has published widely on the foundational texts of Hatha Yoga, is a founding member of the Centre of Yoga Studies SOAS and the Journal of Yoga Studies, and combines his practical experience of yoga with academic knowledge of its history to teach online courses with Jacqueline Hargreaves on The Luminescent (https://www.TheLuminescent.org).
Jacqueline Hargreaves is an Engineer, senior Yoga Teacher, and independent researcher who examines the contemporary meeting place between historical Yoga practices and their application in the modern world. She is a founding member of the Journal of Yoga Studies, and the co-founder of The Luminescent, an independent open-access educational platform for publishing cutting-edge, original yoga research. Hargreaves has curated prominent yoga-related museum exhibitions  (e.g., Embodied Liberation [https://www.soas.ac.uk/gallery/embodied-liberation/] and AyurYog Timeline [https://ayuryog.org/timeline]), and is currently producing a documentary film, which aims to bring to life the unique content of the postural practice preserved in an eighteenth-century Sanskrit yoga text, Haṭhābhyāsapaddhati, through a visual reconstruction of its extraordinary section on āsana.
Further information:
Hargreaves, J. et al. 2018. Haṭhābhyāsapaddhati: A Precursor to Modern Yoga (Film Project) http://hathabhyasapaddhati.org
Birch, J. and Singleton, M. 2019. "The Yoga of the Haṭhābhyāsapaddhati: Haṭhayoga on the Cusp of Modernity." Journal of Yoga Studies, Vol. 2 (2019): 3–70. DOI: https://doi.org/10.34000/JoYS.2019.V2.002
Birch, J. 2018 (submitted 2013). "The Proliferation of Āsana-s in Late Mediaeval Yoga Texts." Vienna: V&R Vienna University Press. Chapter 3: 101–180. Available at: https://www.theluminescent.org/2018/10/yoga-in-transformation-vienna-volume.html
[Birch's presentation slides: PDF]
---
March 31,
1-2.30

PDT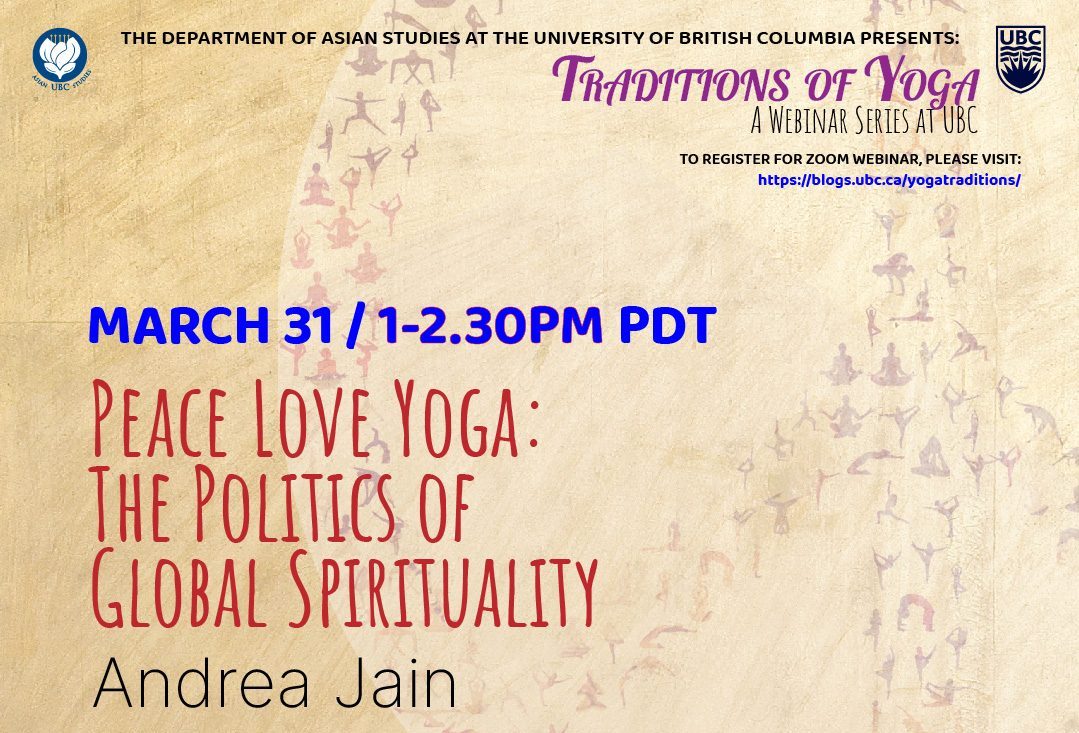 Andrea Jain
Peace Love Yoga: The Politics of Global Spirituality
In this presentation, Andrea Jain notes how many yoga commodities, corporations, and entrepreneurs call on adherents to think beyond the individual, claim to counter the problems of unbridled capitalism, challenge imperialism and cultural appropriation, call for women's empowerment, and greenwash yoga goods. Rather than a mode through which consumers ignore, escape, or are numbed to the problems of neoliberal capitalism, many of these commodities, corporations, and entrepreneurs do actually acknowledge those problems and, in fact, subvert them; but Jain argues that they subvert them through mere gestures. From provocative taglines like "peace love yoga" to calls for "conscious capitalism," appropriation and commodification serve as strategies through which subversion itself is contained.
Bio:
Andrea R. Jain, Ph.D., is associate professor of religious studies at Indiana University, Indianapolis, editor of the Journal of the American Academy of Religion, and author of Selling Yoga: From Counterculture to Pop Culture (Oxford 2014) and Peace Love Yoga: The Politics of Global Spirituality (Oxford, 2020). Her areas of research include religion and capitalism; global spirituality and modern yoga; the intersections of gender, sexuality, and religion; and theories of religion. For links to her scholarship, interviews, and media work, please visit https://www.andreajain.com.
---
April 7, 2-3.30PM PDT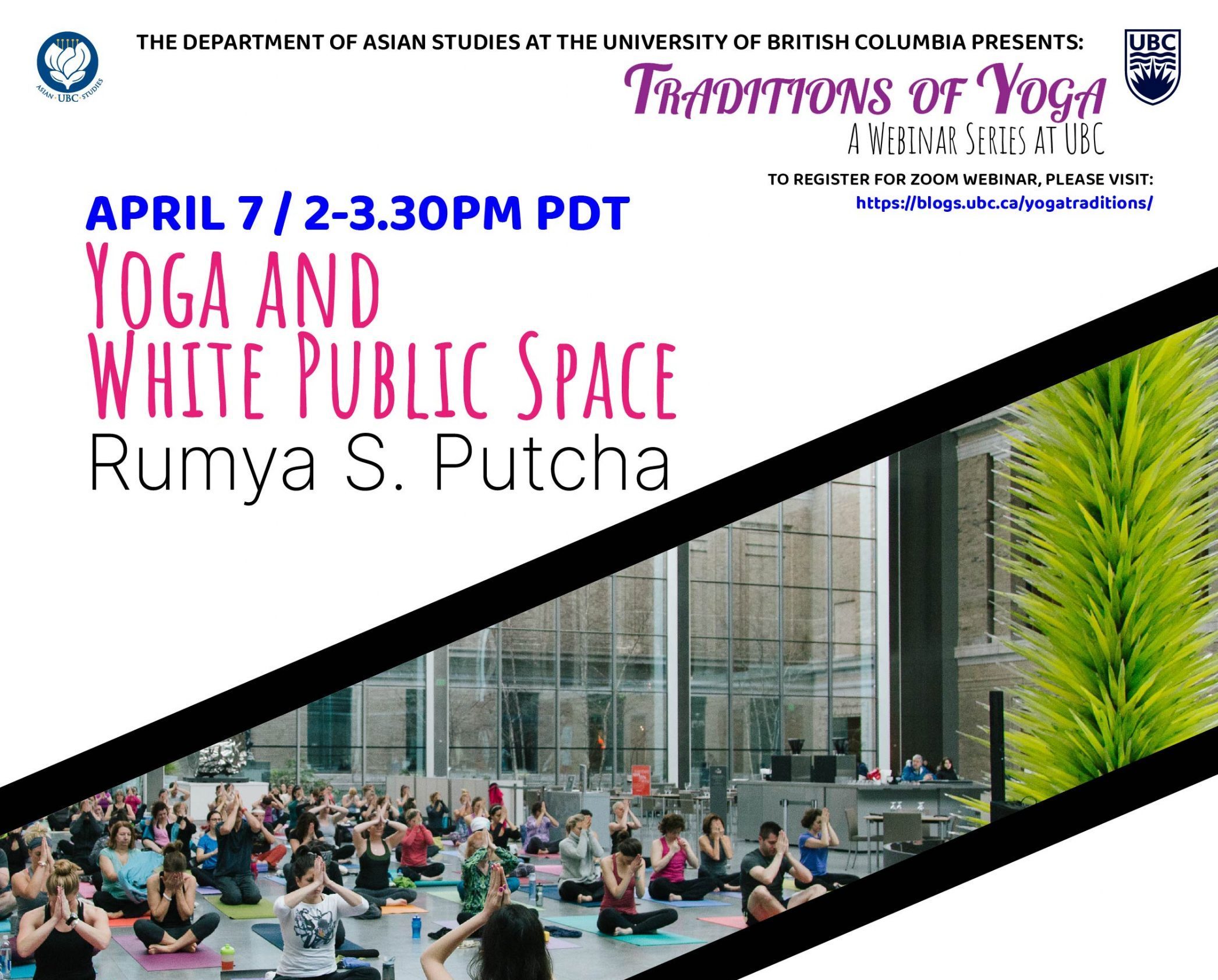 Rumya S. Putcha
Yoga and White Public Space
Goat yoga, beer yoga, trap yoga, acro yoga, holy yoga, ariel yoga, kid yoga, museum yoga. These are just a few examples of the way yoga has become domesticated in the Anglo-American context, particularly in public spaces. In this lecture Rumya Putcha explores how that happened and what it reveals about yoga as well as the way we think about public space.
Bio:
Rumya S. Putcha is an assistant professor in the Institute for Women's Studies as well as in the Hugh Hodgson School of Music at the University of Georgia. Her research interests center on post-Enlightenment, colonial and anticolonial thought, particularly around constructs of citizenship, race, gender, sexuality, the body, and the law. Professor Putcha received her Ph.D. from the University of Chicago in 2011 and her first book, Mythical Courtesan | Modern Wife: Womanhood, Performance, and Feminist Praxis in Transnational India, develops a critical race and feminist approach to South Asian performance cultures. She is currently working on a project titled, "#Yee-Yee Nation: Country Boys and the Mythopoetics of 21st-century White Public Culture," which examines expressions of race, citizenship, and post-9/11 American cultural politics within higher education and country music publics. Her second book project, "Namaste Nation: Wellness Cultures and Orientalism in the 21st Century" extends her work on transnational South Asian performance cultures to critical analyses of capitalist fitness industries within legal and affective discourses of body, race, wellness, and citizenship.
---
April 14, 2-3.30PM PDT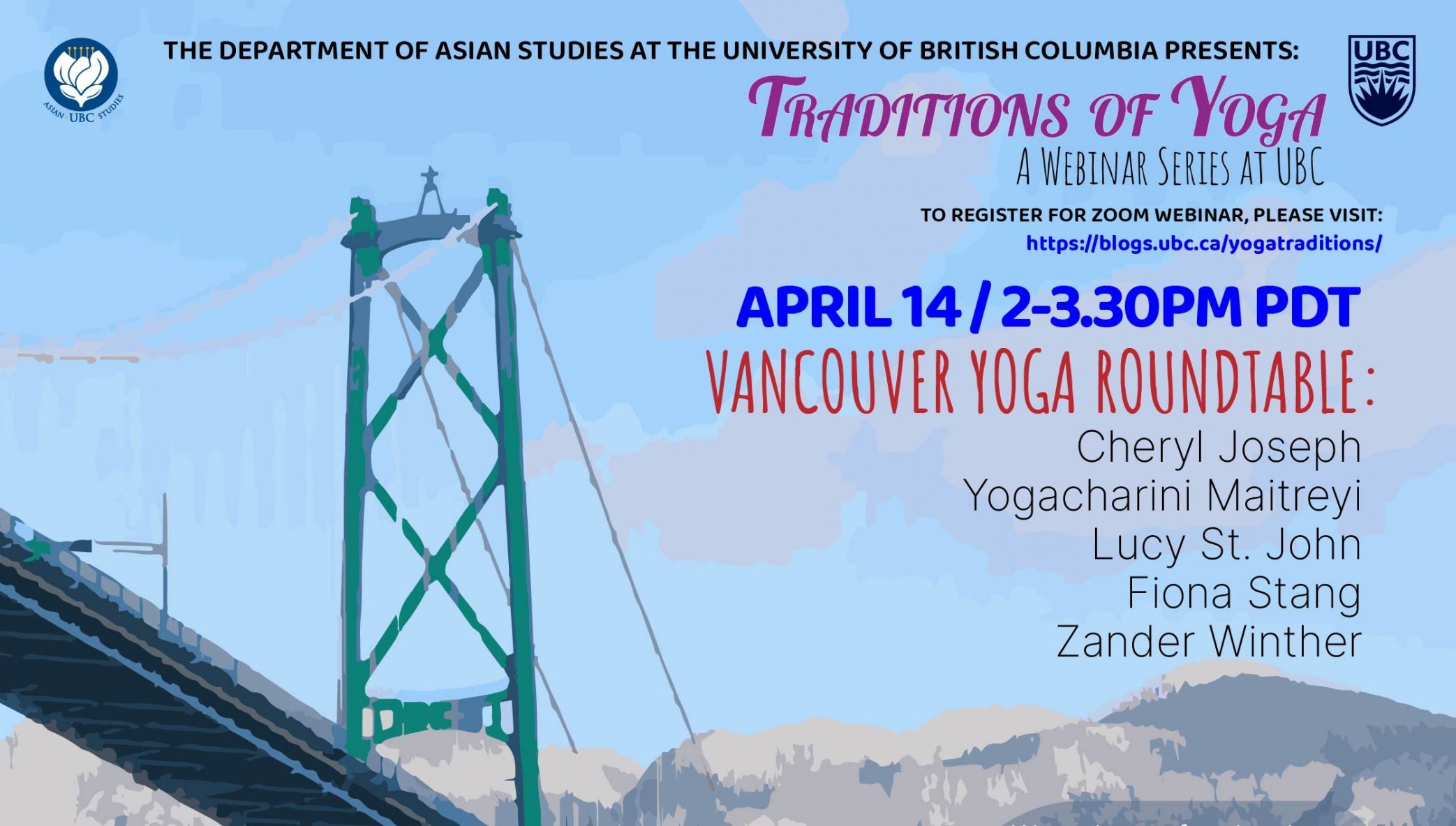 Vancouver Yoga Roundtable
Featuring: Cheryl Joseph, Yogacharini Maitreyi, Lucy St. John, Fiona Stang, & Zander Winther
We welcome four local yoga professionals for a panel discussion on the history, character, and challenges facing yoga communities in Vancouver. We will ask questions concerning South Asian Canadian representation, economic challenges, the impact of COVID-19, and how our studios can connect to premodern yoga traditions, as we envision the future of yoga in the Vancouver area.
Bios: