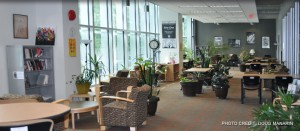 The annual CAP Conference (CAPCON) showcases the work and research of students from the various streams within the first year Co-ordinated Arts Program (CAP) at UBC. The conference was held this past Friday (the 1st of April), and I had the opportunity to listen to a few of my peers present their research on topics related to our studies throughout the year. Aboriginal cultures and rights, representation, and diversity and action are just a few examples of the topics covered.

One panel I was able to attend, "Forms of Witness", featured research by UBC students Anna Kaveney (Global Citizens), Isabelle Gubas (Media Studies), and Rachel Lau (Media Studies). Rachel Lau's presentation was of particular interest to me because it gave me new insight into the way I thought about colonialism and Aboriginal peoples' issues. Inspired by the Museum of Anthropology's "c̓əsnaʔəm, the city before the city" exhibitions, her presentation was called "Unlearning the Colonial Gaze". It was based off her own experiences of learning about Marpole, a Vancouver neighbourhood that, before colonialism, was actually called c̓əsnaʔəm. She argues that the Anglicized name (the switch from c̓əsnaʔəm to Marpole) fails to acknowledge the depth of the land's history. Here, she recognizes the power of words in "[causing] a change in the universe". It is almost as if colonialism is "erasing the culture attached". Lau uses the term "colonial gaze" to describe the non-Aboriginal perspective often taught. She also draws examples from her schooling, explaining that the Aboriginal issues taught in her classes were often presented as somewhat insignificant, stereotypical, and thus trivialized Indigenous histories. Lau asserts in order to "unlearn the colonial gaze", it is necessary to gain a deeper understanding of the indigenous dialogue as well. Evidently, the dominant narrative has been colonial, while indigenous narrative has been silenced.
In his study of power and archives, Rodney G. S. Carter does significant work with this idea of silencing the voices of marginalized groups. The colonial gaze demonstrates a Carter's idea of the "void region" (217), the seemingly blank space where marginalized voices ought to be. He insists that these silences lead to impacts on "societal memory" (217), therefore it is important to try to give voice to those who may have been silenced.
By countering the dominant colonial narrative, both "Unlearning the Colonial Gaze" and "c̓əsnaʔəm, the city before the city" work to "fill the gaps…in memory" (225), and consequently re-establish Aboriginal history within our collective history.
---
Works Cited:
Carter, Rodney G. S. "Of Things Said And Unsaid: Power, Archival Silences, and Power in Silence. Archivaria.61 (2006): 215-33. Web. 2 Apr. 2016.
Lau, Rachel. "Unlearning the Colonial Gaze." CAP Conference. Vancouver. 1 Apr. 2016.