Last summer I was contacted by someone working on a website about what people at UBC were reading over the break, and so I shared my then-current reading list. Someone asked me recently what I read, and then she followed up with, "Well, if you have time to read." But I do. And so here is my winter-spring reading, an update on last summer's list. I have to admit that I don't read a lot that has obvious relevance to my job as Dean, in part because reading provides me with a chance to exercise other mental muscles. And I'll preface this list by noting that I'm notoriously undisciplined in my reading, picking up books at airports or in Indigo just because something speaks to me.
I'm just wrapping up an extraordinarily good book, historian Eric Foner's The Fiery Trial: Abraham Lincoln and American Slavery (2010, W.W. Norton & Co.). Although Foner has written extensively about the period, this is his first solo-authored book to focus on Lincoln (although he edited a book recently on Lincoln and his world). Of course Lincoln is one of the most written-about figures in history, but Foner takes as his core narrative a single issue: how Lincoln thought about and responded to the issue of slavery. A cautious constitutionalist, a compromiser by nature, and with a political history devoted primarily to extending free markets, Lincoln made a most reticent revolutionary. But Foner's great gift is to show the steady growth in Lincoln's political thinking as he grappled with what became the dominant issue of the day. In the end, both Foner and his readers are struck by the remarkable capacity for political and philosophical growth on the part of Lincoln, a Lincoln much more pleasingly complex and elusive than the one handed down through history as the Great Emancipator.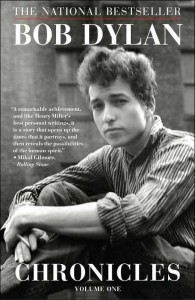 Last summer, I savored Keith Richards' Life, and followed it up in late Fall with Bob Dylan's 2004 autobiography entitled Chronicles: Volume One (2004, Simon & Schuster). This was a lavishly praised book when it appeared, and indeed it has some lovely accounts of Dylan's early years in New York City. His recounting of his recovery from his motorcycle accident leading to the recording sessions in New Orleans with producer Daniel Lanois is detailed and intimate. Still, his chapter on his battle with fame, fan expectations and the music industry comes off a bit juvenile. Throughout the book, there are startling scenes and revelatory moments, but even in his memoirs, Dylan has a capacity to evade. Sometimes infuriating, sometimes charming and humble, Dylan can still somehow slip right out of focus, and for this reason found the book a bit unsatisfying in the end.
Continuing in the music vein (and after all, occasionally I still delude myself that I'm a music scholar), I picked up Randy Bachman's Vinyl Tap Stories. I'm a huge fan of Randy's radio program on the CBC where he sits with his guitar and spins both records and stories about rock musicians and the industry. Drawing on his experiences with the Guess Who and the Bachman Turner Overdrive, Randy has a brilliant ability to bring the listener into a recording gig at the end of the '60s or into the variations on a bass pattern played by a range of artists, or even his favourite "mondegreens" (mis-heard song lyrics). This book is a set of expanded stories from the show, woven with some autobiography and descriptive-historical portraits of musicians and events. It's not great literature, but it's a good read if you love rock 'n' roll.
My winter fiction reading started out with Jennifer Egan's a visit from the goon squad, a complex novel that moves around in time exploring a network of relationships that are tied in various fashions to the music industry. It's a book about aging (the goon squad in the title), loss, memory, and the silences in recordings but also in relationships. There's a great commitment to the power and the freedom of music that drifts through this book. Egan's characters make terrible choices and show their wounds in distasteful ways, but one understands their motivations and occasionally, and often by accident, they create wonderful things. The chapter made up of Powerpoint slides is unlike anything I've encountered in a novel before. Perhaps if Melville lived in a Powerpoint era, he would have done something like this about whale anatomy. This is a book that had me wondering throughout if I was reading a cleverly crafted bit of pop fiction or an unassuming great novel. I'm still not sure where I land on this question.
Then I picked up (in an airport) Yann Martel's Life of Pi, which, surprisingly, is over 10 years old now (2001, now published by Vintage Canada). As anyone who has heard anything of this book knows, it follows an extraordinary young boy from Pondicherry, India, named Pi (Piscine) whose family owns a zoo. The bulk of the story takes place after they leave for Canada, only to be shipwrecked. Pi's subsequent life adrift in a lifeboat at sea with various zoo animals (including a tiger) appears like a work of magical realism until the story fractures in two under the clumsy interrogation of two Japanese insurance investigators in the final chapter and the reader is left with a terrible choice of interpretation. This is a rich thrilling book about the imagination and about storytelling, and about God, humans, and animals, fate and choice.
I have now waded a few chapters into Haruki Murakami's novel 1Q84 (2011 translation, The Bond Street Books), at least enough to encounter the characters whose stories will, or so I am led to believe, intersect and intertwine throughout the book. I haven't read Murakami's previous novels, which have been celebrated in recent years, and so decided to start with the most recent and work backwards in time if inspired by this one.
I also read through some free historical fiction on my iPhone as I drift off to sleep. Having read a few of Burroughs' Tarzan novels, some of Agatha Christie's Hercule Poirot mysteries, and re-read Robinson Crusoe and Gulliver's Travels in this fashion, I'm now plowing through Joseph Conrad's The Secret Agent. And before I put my daughter to sleep (age 9), I read her novels as well. We're currently on Book 3 (This Isn't What It Looks Like) of The Secret Series by the nom-de-plume'd Pseudonymous Bosch. Although they're basically children's mysteries, I love this series for its extraordinary use of complex vocabulary, its clever footnotes, and that each book is devoted to a different medium of sensory perception (in order; smell, hearing, taste, sight, and touch). On her own, my daughter is deeply into the second series by Rick Riordan about Percy Jackson and the Olympic gods. And I suppose I shouldn't be embarrassed to admit that I'm also reading through Scott Tipton's Star Trek Vault: 40 Years from the Archives, a present from my wife to this lifelong Star Trek enthusiast.
This is what I read when I'm not reading the reports and dossiers that I consume for my day job. Feel free to send me suggestions for books!