"Something resembling such a picture or decoration incomposition, especially in being made up of diverse elements."
– Dictionary.com
A mosaic can be made of putting many different parts together. Some pieces of art are mosaics. Canada being a pluralistic country is a cultural mosaic. The University of British Columbia with academics gathering from all around the world is a mosaic of knowledge. Life, in all its complexities, can be re-described as a beautiful mosaic of shared experiences. Group 1, contributes to the mosaics of many with their work assessing the land owned in richmond.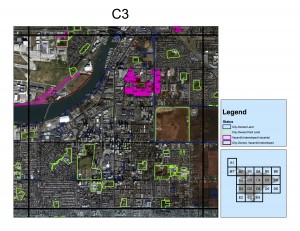 Group 1 assesses under utilized city owned land in Richmond, BC. They hope to evaluate the land's potential for agricultural production or other food related purposes. The overall goals of this endeavour could lead to food being produced for the community. The food produced for the community will hopefully alleviate food insecurity within the richmond area in a way that would satisfy the culturally diverse community. The possible future food production and Group 1's current efforts both contribute to raising the local community's awareness regarding food security issues. The raised awareness combined with food production would lead to better utilization of the under utilized lands owned by the city of Richmond. The community impact of the results of the land assessments could be monumental in the food system of the mosaic community of richmond.
Currently, Group 1 has about 15 sites that they are surveying. Due to this being a very preliminary stage in the grand scheme of the project, the group will be conducting windshield surveys (surveying the land from a moving vehicle) in the end stages of the project. Overall, as closing thoughts, Group 1 told me that that "learned a lot and gained a lot of insight through the project." Furthermore adding "May this course (LFS 350) help more students like [us] to clarify their goals and interest". It seems like this experience will  definitely be a colourful piece in the mosaic of life in the community and students of LFS 350 alike.
– `rtang