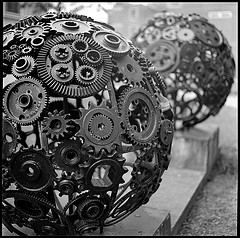 Thomson Reuters' owned ScienceWatch.com has recently released the figures for "Top 20 Countries in Engineering".
…is a listing of the top 20 countries which, as of the latest bimonthly update of Essential Science IndicatorsSM, attracted the highest total citations to their papers published in Thomson Reuters-indexed journals of Engineering over an 11-year period, (1998-December 31, 2008). These countries are of a pool of 96 countries comprising the top 50% ranked by total citation count in this field.
It is great to see Canada as #7 with 4.39 citations per paper!
** Photo by tim_d
May 27th, 2009 by Eugene Barsky | No Comments »