June 30th, 2008 by Eugene Barsky | No Comments »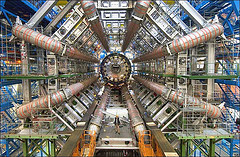 CNN runs an article today about the CERN's Large Hadron Collider.
The article raises some fears that the Large Hadron Collider could exceed physicists' wildest conjectures: Will it spawn a black hole that could swallow Earth? Or spit out particles that could turn the planet into a hot dead clump?
The article tries to answer those questions with CERN and other physicists. A very nice read – here is the full text – http://www.cnn.com/2008/TECH/06/30/doomsdaycollider.ap/index.html
The comments are open for any UBC folks that are willing to address this issue 🙂 After all, we have our own system here at UBC – at TRIUMF…
Thanks to Anne Miele for the link.
** Photo by Image Editor