Education For Sustainability
Better Practices
For
Secondary School Teachers
And
All those sharing a watershed with one!
We acknowledge and thank the First Peoples of the territory of the __ language group on whose traditional and unceded territories we teach, learn, and live upon where the __ people continue their traditions and cultural education.
Your EfS Activity Guide
Full-length Videos
Clean Bin Project & Just Eat It (by Jen & Grant), Flow, Food Inc., Forks Over Knives, Home, Inconvenient Truth, No Impact Man, One Big Home, Sharkwater & Revolution (by Rob Stewart), The Corporation, The Cove, WALL-E, Waterlife, and BBC series' Life, Blue Planet, and Plant Earth 1 & 2
Short Videos
Podcasts
EfS Project Funding Sources (check your local sources)
Chamber of Commerce, community foundations, energy companies, grocers, home hardware stores, outdoor gear stores, school district budgets, school parent advisory committees, seed companies, WWF
EfS Daily Hooks
Animal/plant of the day desk calendar
Share global significance of the day (i.e. World _ Day)
Daily Exposures to Nature
30 minutes of nature journaling (bullet-style)
Focused observation walks (i.e. perspective, human impact, sensory, systems, wildlife, mapping
Hand watering of schoolyard plants
Imagination in ecological education (i.e. mythical explanations, casting a spell, tracking skills, etc.
Permaculture design for future use of the school grounds
Sensory solitude spots in nature
Teacher Guides with EfS Lesson Plans
Things to do with about 30 students
BioBlitz – citizen science data collection of biodiversity
Everyone contributes highlights to a neighbourhood map
Grow garlic! Everyone plants one clove in September, learns to care for it, and harvest in June
Inquiry Project – where students choose to research a most sustainable model of…(i.e. building, school, person,  hospital, career, company, meal, etc.)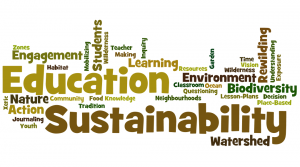 EfS Alphabet:
A is for Action
B is for Biodiversity
C is for Communities
D is for Decision-making
E is for Education
F is for Food
G is for Garden
H is for Habitat
I is for Inquiry
J is for Journaling
K is for Knowledge
L is for Learning
M is for Mobilizing
N is for Neighbourhood
O is for Ocean
P is for Place-based
Q is for Questioning
R is for Rewilding
S is for Sustainability
T is for Time
U is for Understanding
V is for Vision
W is for Wilderness
X is for Xeric
Y is for Youth
Z is for Zones
Classroom Modifications
Be able to see nature through the window or care for indoor plants
Free stuff box of items to be repurposed
Goose Bin = good on one side paper
Have access to a nearby garden area
Multi-bin diversion to zero-waste, including: paper, plastic, metal, glass, refundables, light bulb, batteries, soft plastic, small electronics, dried-out markers, and compost
Go-to EfS Equipment
Egg incubator for annual hatching on Earth Day
Hand lenses 10x to magnify the beauty in micro-life
Hand trowels for whole class digging activities
Permaculture base-maps & element cards
Stapleless stapler and refillable whiteboard markers
Talking stick for student check-ins
About the Author
Michael Wolfe teaches science and outdoor education at McNair Secondary School in Richmond, BC. He hatches chicken, duck, and quail, and then raises them in the school's habitat courtyard – one with the goal of becoming the most biologically diverse space in the school district. Recently he added an indoor aquaponic system to explore with his EcoClub. Michael Wolfe is a 2018 graduate from the inaugural Education for Sustainability M.Ed. program at UBC and CityStudio Vancouver. He lives in Vancouver with his wife, Tiffany.
Twitter @bogberry or email mwolfe@sd38.bc.ca
We acknowledge children everywhere. We are inspired by the vibrancy of your youth and we commit to continually striving to make the world, we borrow from you, a more peaceful, loving, and safe place in which to learn, live, and love.
Education for Sustainability Selected Resources
Global / International:
Federal / National:
Aldo Leopold (.org), Canadian Association of Physicians for the Environment (CAPE), Canadian Parks and Wilderness (CPAWS), Centre for Ecoliteracy, Child and Nature Alliance of Canada, Children and Nature Network, David Suzuki Foundation, Earth Charter Initiative, Earth Day Network, Ecojustice, Environmental Defense Fund, Envirothon, Evergreen, Friends of the Earth, Greenpeace, Green Learning, Global Footprint Network, Nature Canada, Place-based Education Evaluation Collaborative (PEEC), Resources for Rethinking (R4R), Rethinking Schools, Sea Shepherd Conservation, Sierra Club, Surfrider Foundation, Sustainable Schools Project (.org), The Canadian Network for Environmental Education and Communication (EECOM), The Climate Reality Project, The Nature Conservancy Canada, WWF Canada
Regional (State, Provincial, Watershed, etc.):
Ancient Forest Alliance, BC Agriculture in the Classroom Foundation, BC Environmental Educators' Provincial Specialist Association (EEPSA), BC Green Games, BC Sustainable Energy Association, CityStudio Vancouver, Classrooms to Communities Education Network (C2C), Columbia Basin Environmental Education Network (CBEEN), Fresh Air Learning, Hub Cycling, Metro Vancouver Education, Rivershed Society of BC, Wild BC, Western Canada Wilderness Committee, Wilderness Awareness School, Yellowstone to Yukon Conservation Initiative (Y2Y)
EfS Blogs, Magazines, Newsletters & Journals:
Local Non-governmental Foundations, Organizations & Societies:
Bioneers, Burns Bog Conservation, Check Your Head (.org), Destination Conservation, ECO Canada, Ecology Center, Environmental Education (FEE.global), Environmental Working Group (EWG), Environmental Youth Alliance, E.O. Wilson Biodiversity, Learning for a Sustainable Future (LSF), No Child Left Inside Coalition, Rocky Mountain Institute, Stanley Park Ecology, Think Earth, Think & Eat Green @ School
EfS Fieldtrip Ideas: (check your local sources)
Aquariums, botanical gardens, energy generation stations, farms, landfills, manufacturing/processing facilities, nature parks, science centres, water/waste treatment facilities
If you would like to report a faulty link or have anything new to add, please email Michael Wolfe at: bogberry@gmail.com