Our Rewilding Project – part of my EfS M.Ed. Program
Pre Project
City of Vancouver has a goal of becoming the Greenest City in the world by 2020 (Greenest City Action Plan)
One of the ten goals is in the area of Access to Nature with a targets to increase the biodiversity of our natural and urban spaces
In 2014 the City of Vancouver developed: An Environmental Education & Stewardship Action Plan (aka Rewilding Vancouver)
Group Project
A group of EfS M.Ed. students accumulated research on rewilding efforts, locally to globally, discussed our plans with the City's Parks Board staff, assembled a variety of edible native plants into packs of four, sold them for a discount of $10 at the Parks' Tree Sales events, and gave others away to participants of our Rewilding workshops.
The most suitable native plants that we found for growing in diverse locations from boulevards to balconies are: Bunchberry, Kinnickkinick, Lingonberry, Nodding Onion, Salad, Strawberry, and Yarrow

For samples of our larger native planting, visit the community garden at Riley Park or the school gardens at General Wolfe Elementary or Matthew McNair Secondary.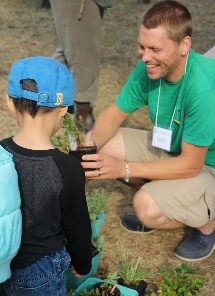 Post Project News
The City of Vancouver is considering a plan to grow native plants in their nurseries, assemble (Rewilding) kits of plants, and offer them to the public.