I will admit that I'm generally suspicious of new technology … but am willing to give most things a try. When clickers came on the scene many years ago, I did try them for a term or two – but pretty quickly lost enthusiasm. Over the years, I've watched a lot of other teachers use clickers well, and I end up asking myself, "Why do I loathe these so much?" … While walking the dog this morning (which is where I do good pondering), I came up with at least a partial answer.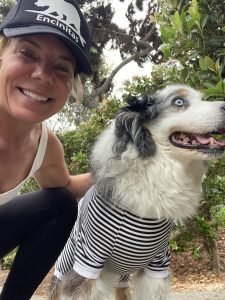 (Bonus for our matching outfits)
I like posing complex problems in lectures, and I love the subsequent controlled chaos of student discussion/arguing/learning that ensues. Sometimes I just walk out of the class and get coffee while this is happening. I'm fine leaving, because this learning progress is not about me – and I think that's where clickers rub me the wrong way. Taking that learning and asking students to display an answer so that … so I can be impressed by it?…  so they can competitively compare their learning to their peers?… None of this bodes well with my cooperative approach to learning. I put work in each term to encourage and teach students to become their own compass for their own learning. A piece of this is to articulate what they want to learn and why. A piece of this should not be "to impress Celeste" or "to out-compete everyone else".
When problem solving happens in my classroom, we often take a long time dissecting solution(s) and different approaches, so avoiding clickers does not leave students stranded with no learning resolution. Instead, I think it keeps the focus on them as individuals with their own unique learning process.