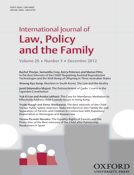 Chair in Feminist Legal Studies Susan Boyd has recently co-authored an article for the International Journal of Law, Policy and the Family entitled "Family Law Reform in (Neoliberal) Context: British Columbia's New Family Law Act".
Abstract: This article introduces and critically examines the new British Columbia (Canada) Family Law Act (FLA), which lays out new norms and procedures for the resolution of family disputes and emphasizes out-of-court dispute resolution. These changes are also intended both to reflect and to construct the 'new' face of contemporary motherhood and fatherhood post-separation. After identifying the neoliberal context within which the changes will play out, we explain the law reform process and summarize the reforms pertaining to post-separation parenting. Key changes include: replacing the terms 'custody' and 'access' with an expanded definition of guardianship; a list of specific factors that must be considered in determining a child's 'best interests'; a detailed definition of domestic violence; explicit rules to guide relocation; and authority for courts to make conduct and non-compliance orders. The FLA distances itself from presumptions regarding the preferred form of parenting arrangements post-separation, but the post-separation default position is that each parent is the child's guardian with all parental responsibilities. The last part of the article places the changes in their contemporary social and political context and critically evaluates their strengths and weaknesses. Our conclusion cautions that without adequate resources to support families and improved access to justice, the innovative aspects of the FLA may be thwarted.
Click here to view the abstract on the International Journal of Law Policy and the Family website, plus links to HTML and PDF versions of the full article.