My research is directed at reframing the education experience of Indigenous students by understanding the sacredness of the land. This also involves examining the issues that have contributed to the removal of First Nations people from their communities and their land.
1.
https://www.youtube.com/watch?v=LyCun8Le3jg
This is a song by Lucie Idlout. Lucie about her mother's disc number e5-770. Disc numbers were given to Inuit people by the Canadian government in the 1940's as a way of identifying them. Even though many Inuit people were born with surnames this policy saw the government giving the people Eskimo disc that were similar to dog tags.
2.http://www.traditional-knowledge.ca/english/project-surname-102.html
This is a  resourceful website that takes the reader into "Inuit traditional knowledge. It shows the connection to their land and its importance to their well being. It tells the stories of First Nations people- "the story you are about to read will take you from the mountains of the Noatak River in Northern Alaska to Baffin Island in Nunavut.  It also tells more about the Eskimo disc that were giving to identify Inuit people.
3
.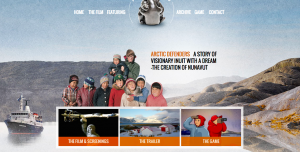 3.
http://www.arcticdefenders.ca/
This is about the film Arctic Defenders. "Arctic Defenders tells the remarkable story that began in 1968 with a radical Inuit movement that changed the political landscape forever. It lead to the largest land claim in western civilization, orchestrated by young visionary Inuit with a dream – the governance of their territory – the creation of Nunavut."  It features Aaju Peter who received the  Order of Canada on Dec. 30, 2011.Aaju is advocating for Inuit rights to seal and seal skin products as well as the Inuit right to be involved in issues related to Arctic waters. http://www.arcticdefenders.ca/team/aaju-peter.html
4.
https://www.nfb.ca/film/hi-ho_mistahey_en/
Renowned Director Alanis Obomsawin directs many Aboriginal Films that can be found on the National Film Board of Canada website.  For example Hi-Ho Mistahey, which is s the story of Shannen's Dream, to provide equitable access to education in safe and suitable schools for First Nations children. She recently directed WE CAN'T MAKE THE SAME MISTAKE TWICE, at the Calgary Film Festival which  highlights how even today, Indigenous Peoples face prejudice and discrimination from even the highest government offices. http://www.calgaryfilm.com/films/2016/we-cant-make-same-mistake-twice
Some of her other films includes https://www.nfb.ca/film/kanehsatake_270_years_of_resistance/
KANEHSATAKE: 270 YEARS OF RESISTANCE,  Alanis Obomsawin spent 78 nerve-wracking days and nights filming the armed stand-off between the Mohawks, the Quebec police and the Canadian army. This powerful documentary takes you right into the action of an age-old Aboriginal struggle.
5.
http://calgaryherald.com/news/local-news/multimedia-show-creates-new-chapter-in-treaty-7-history-book
This is a multimedia theatre project created in 2012 tried to rectify that. The Making of Treaty 7 was a re-enactment of the signing from the First Nations' point of view."What we're trying to do," director Michelle Thrush has said, "is pay honour and respect to the other side of the story, which is the Making of Treaty 7 through indigenous eyes."