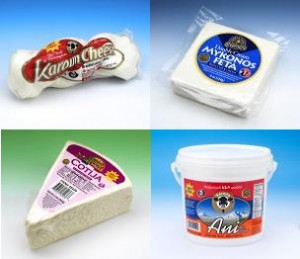 Recalled soft cheese products. Source: CDC
An outbreak regarding soft cheese contaminated with Listeria monocytogenes finally arrived to a conclusion after five years of investigation. Starting in June 2010, thirty cases of listeriosis caused by the consumption of a specific type of cheese happened throughout the United States. Most of the cases were reported in California, but there was also a great number of cases happening specially in the eastern portion of the country, occurring in nine other states. According to the Center for Disease Control and Prevention, aside from California, there were also cases in Colorado, Illinois, Massachusetts, Michigan, New York, Ohio, Tennessee and Washington, and overall the outbreak resulted in 28 hospitalizations and 3 deaths, two in California and one in Ohio. Five illnesses were pregnancy-related, and one resulted in miscarriage.
The Center for Disease Control and Prevention was able to link all those cases together using whole genome sequencing, which is a molecular subtyping method that is recently becoming more used by publich health authorities to identify foodborne pathogens. This method relies on sequencing the nucleic acid of the target microorganism and detecting the differences in that nucleic acid sequence.
People infected with the outbreak strains of Listeria monocytogenes by contaminated soft cheese. Source: CDC
Whole genome sequencing, as its name suggests, is a method that provides a nearly complete sequencing of bacterial nucleic acids, and that is what makes it a very accurate method, since it becomes much easier to compare and differentiate between serotypes of a specific bacteria. The first generation was not very user-friendly for the detection of foodborne illnesses outbreaks, as it was a very time-consuming, labor-intensive and expensive method. However, nowadays the development and improvement of next-generation sequencing methods have made these tools more available and affordable for laboratories, making it easier to use them routinely and ensuring not only precise, but also fast results, and at a reasonable cost. These methods are rapidly becoming more accepted by public health and regulatory agencies, and in the next few years they will probably replace the most commonly used method currently, which is pulsed-field gel electrophoresis (PFGE). Compared to the latter, whole genome sequencing methods have a higher discriminatory power for outbreak detection and allow for the sequencing of different pathogens in the same batch.
The whole genome sequencing methods provide better discrimination between the subtypes, and therefore it can distinguish isolates that have a similar or equal PFGE profile, therefore improving the detection of a possible outbreak. This is what happened in this case, as the public health agencies could not properly connect all the cases that happened throughout the country with only one pathogen for over five years, and the whole genome sequencing showed that five rare DNA fingerprints of Listeria monocytogenes were related, connecting serotypes identified in this last August with serotypes found in the cases from around five years ago.
The types of cheese involved in this outbreak were soft cheese, including Middle Eastern, Eastern European, Mediterranean and Mexican-style cheeses. The contaminated products likely responsible for the outbreak were from the brands Karoun, Arz, Gopi, Queso Del Valle, Central Valley Creamery, and Yanni, all of which were manufactured by Karoun Dairies, Inc. This company announced a voluntary recall of the products from those brands and stopped the production of other cheese products that might be contaminated with Listeria on September 16, 2015.
Even though the incident was not very recent, a lot of restaurants and people may still have cheese products from those brands as the recall happened this year, and they are advised not to serve or consume these products as they may be contaminated with Listeria monocytogenes. It is very important that people don't consume them, as listeriosis is a very severe disease, specially for children, the elderly and immunosuppressed population.
References:
Centers for Disease Control and Prevention. (2015). Multistate Outbreak of Listeriosis Linked to Soft Cheeses Distributed by Karoun Dairies, Inc. (Final Update). Retrieved from: http://www.cdc.gov/listeria/outbreaks/soft-cheeses-09-15/index.html
Zuraw, L. (2015). Final Update: 3 Deaths, 30 Illnesses in Outbreak Linked to Soft Cheese. Retrieved from: http://www.foodsafetynews.com/2015/10/1-death-24-illnesses-in-listeria-outbreak-linked-to-soft-cheese/
Wiedmann, M. (2015). Use of Whole-Genome Sequencing in Food Safety. Retrieved from: http://www.foodsafetymagazine.com/magazine-archive1/junejuly-2015/use-of-whole-genome-sequencing-in-food-safety/