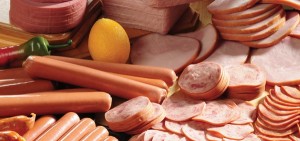 Did you know that China has a zero pathogen standard that needs to be met for meat imports? Whether raw or cooked, meat and poultry from Canada shipped to China must contain no amounts of Listeria monocytogenes. How would this affect China's food market and food availability?
Listeria monocytogenes is a facultative anaerobe, meaning that this bacterium is able to survive in environments absent of oxygen. It also has the capability of growing in temperatures ranging from 0 to 40 degrees Celsius. This allows Listeria monocytogenes to grow and to survive on refrigerated and frozen foods respectively. In Canada, presence of the bacteria on food is permitted as long as the detected amount is below 125 CFU/g for category 1 RTE foods and less than 100 CFU/g for categories 2A and 2B. These values were established because foods with less than these detected amounts of L. monocytogenes have low risk of causing illness. In fact, most foods consumed in Canada are usually tainted with L. monocytogenes. According to Health Canada, there is a 0-10% frequency of L. monocytogenes found in RTE foods.
Food from Canada that is exported must comply with the regulations of the country receiving the food, in this case, China. According to the China National Standards (GB 29921-2013), meat products cannot contain any amount of Listeria monocytogenes for every 5 samples tested. If meat and ready-to-eat (RTE) food producers want to export their products to China, they need to apply procedures that would completely eliminate L. monocytogenes from the food. To ensure that cross contamination does not occur, exporters need to follow proper equipment maintenance, sanitation, and handling procedures; however, this may be difficult for Canadian producers to achieve if we export our meat to countries with such requirements because meat can be contaminated through packaging and shipment processes. In addition, there is difficulty in eliminating the bacteria from foods due to the resistant qualities of L. monocytogenes such as sanitizer, acid, and desiccation tolerance, as well as its ability to attach and remain on surfaces.
China's zero tolerance policy for the presence of L. monocytogenes in meat poses as an issue for other countries wanting to import their meat into China. If China buys meat from Canada and the meat gets tainted during exportation, China destroys the meat. This waste and reduction in food imports is not only harmful to both economies, but also to the food supply in China. Moreover, implementation and regulation of stricter laws is costly.
Compared to previous years, the presence of L. monocytogenes in foods has been increasing. The number of incidences of foodborne infection due to L. monocytogenes reported in China is similar to the numbers from different countries. Since China's food market is rapidly developing, along with an increase in the population, there is a demand for pre-made, RTE foods. This increased consumption may also mean that there is more risk of infection, but there may also be a lack of supply due to the restrictions on imports. According to the WHO, the likelihood of developing listeriosis depends on multiple factors including how the food is stored, how many times contaminated food is consumed, and the amount of pathogen on the food. Rather than having the zero tolerance policy, perhaps China can consider educating consumers on basic food safety principles.
Considering the risk of infection and the loss of trade, do you think the zero tolerance policy is necessary?
Works Cited
China National Standards (26 Dec 2013). Food Safety National Standard Limit of Pathogens in Food Products. Retrieved from http://cexgan.magrama.es/MODULOS05/Documentos/GB29921-2013-PatogenosEnAlimentos.pdf
Feng, Y., Wu, S., Varma, J. K., Klena, J. D., Angulo, F. J., & Ran, L. (2013). Systematic review of human listeriosis in china, 1964–2010. Tropical Medicine & International Health, 18(10), 1248-1256. doi:10.1111/tmi.12173
Health Canada (1 Apr 2011). Policy on Listeria monocytogenes in Ready-to-Eat Foods. Retrieved from http://www.hc-sc.gc.ca/fn-an/alt_formats/pdf/legislation/pol/policy_listeria_monocytogenes_2011-eng.pdf
Wu, S., Wu, Q., Zhang, J., Chen, M., Yan, Z. A., & Hu, H. (2015). Listeria monocytogenes prevalence and characteristics in retail raw foods in china. PloS One, 10(8), e0136682. doi:10.1371/journal.pone.0136682