Salmonella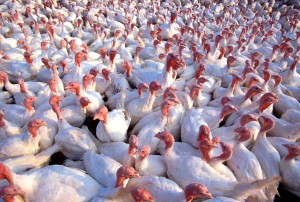 Stanley, as friendly as this particular strain of salmonella may sound, is no friend to the European member states at all. S.Stanley may as well be a multi-national celebrity as it has been making headlines across Europe for various food-borne outbreaks since 2011.
After a string of salmonella outbreaks that affected 7 European states and more than 400 patients, the European Centre for Disease Prevention and Control (ECDC) and other authorities finally initiated investigations on the source of the culprit strain in 2012. Evidence from the investigations led to a suggested source of turkey meat and without slowing down, the notorious S.Stanley continued to make various headlines up until 2014. Now, S.Stanley has re-emerged in clusters throughout 2015 and is taking over a new wave of Austrian turkey supply.
Between 1 January and 8 October 2015, 141 cases of non-travel related infection with S. Stanley were identified in eight of the nine Austrian provinces. At least 36 of these cases have been traced back to turkey kebabs made with turkey meat supplied by a single retailer located in Slovakia. More trace back by National authorities indicate that the Slovakian retailer sources its turkey meat from a facility in Hungary. This same facility was linked to a S.Stanley cluster back in 2014. Furthermore, recent investigations using pulsed-field gel electrophoresis (PFGE) molecular typing indicate that the 2015 salmonella isolates have the same unique pattern as S.Stanley from the 2011 to 2014 outbreaks.
So what is the secret to S.Stanley's everlasting presence?
Antimicrobial Resistance.
Since the early 1990s, antimicrobial resistant salmonella strains have emerged and become serious public health concerns. Antimicrobial resistance occurs when pathogenic cases are routinely treated with antimicrobial therapy but result in not eliminating the more resistant bacteria strains. The subsequent result is resistant bacteria strains reproducing, and the antimicrobial treatment becoming ineffective.
The same strain of Salmonella Stanley has consistently been recognized from 2011-2014 due to its pattern of resistance to nalidixic acid antibiotics. That was up until now, where the 2015 strain of S.Stanley has been identified as having low-level resistance to ciprofloxacin in addition to nalidixic acid antibiotics.
To prevent further cases of antimicrobial resistance cases, the single most important action is to change the way antibiotics are used. Mostly, the use of antibiotics in people and animals are unnecessary especially in mild cases of infection. Treatment guidelines should be reviewed regularly while considering bacterial resistance patterns.
Here are some simple tips to prevent Salmonella from spreading in your home:
Clean surfaces regularly and wash your hands often especially after coming into contact with animals and animal products.
Separate raw and cooked, ready-to-eat foods to prevent cross contamination.
Cook food to the right temperature. Checking the colour and texture of meat is not enough to ensure it is safe. Instead, use a food thermometer to check internal food temperatures.
Refrigerate foods below 4°C. Germs can grow in many foods within 2 hours and even quicker during the summer.
Works Cited
CDC. (2014). Antibiotic Resistance and Food Safety. Available at: http://www.cdc.gov/foodsafety/antibiotic-resistance.html
CDC. (2015). About Antimicrobial Resistance. Available at: http://www.cdc.gov/drugresistance/about.html
ECDC. (2015). CDTR Week 41, 4-10 October 2015. . COMMUNICABLE DISEASE THREATS REPORT. Available at: http://ecdc.europa.eu/en/publications/Publications/communicable-disease-threats-report-10-oct-2015.pdf
Whitworth, J. (13 October 2015). New Cases reported in multi-year, multi-country Salmonella outbreak. Food Quality News. Available at: http://www.foodqualitynews.com/Food-Outbreaks/Turkey-production-chain-at-centre-of-Salmonella-concerns
WHO. (2013). Salmonella (non-typhoidal). Available at: http://www.who.int/mediacentre/factsheets/fs139/en/
WHO. (2015). Antimicrobial resistance. Available at: http://www.who.int/mediacentre/factsheets/fs194/en/