The Beginnings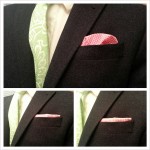 E-commerce is an ever-growing part of the retail marketplace and something that I find extremely interesting. Before starting my MBA journey at Sauder I really wanted to experiment with the entire gamut of e-commerce from website creation, to monetization, to social media marketing and all the way through to order fulfillment. I also have an interest in fashion and at the time I had a small men's fashion blog. I wanted to combine these two interests so the natural progression was towards a men's fashion e-commerce site. However, with having to save my money in order to pay for my MBA the initial investment had to be minimal so I would have to handle everything on my own and even create the product. What can I possible sew myself having never used a sewing machine? I asked my fiancee this as she has been sewing for years and she suggested pocket squares & bow ties. After a brief intro and tutorial on the sewing machine I decided to give it a shot and Spare a Square was born in May 2013.
The Process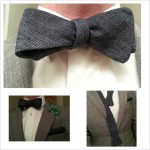 Wanting to learn as much as possible and needing to keep the initial costs down led to a sole proprietorship where I did all of the steps in the following process.
Create the website – Shopify was used due to the simplicity and built-in cart
Pick out and purchase the fabric from local fabric stores
Create prototypes of each SKU in order to take pictures for the website
Advertise via Twitter, Facebook, Instagram and Google AdWords
Create all marketing material and packaging
Fulfill the orders
Manage the website
Experience Gained
Throughout this process I gained a lot of valuable experience such as:
An understanding and familiarity with both paid and free social media marketing methods
An understanding of various payment portals and the pros and cons of each
Website creation and maintenance
The effect of promotions and sales on brand identity
Mistakes Made & Lessons Learned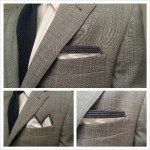 Having started my own small business before my MBA has paid huge dividends during the program as I have a point of reference that can provide context for many of the concepts that I am learning. Looking back, there are a lot of things that I would have done differently.
Pricing – The major player for pocket squares and ties is The Tie Bar. They are a company that is often featured in GQ and they provide quality products at extremely low prices. Due to economies of scale and outsourcing, this model works for them. I attempted to emulate their model even though I was offering handmade, unique products that warrant a price premium. Before launching I should have done more research into the market, picked a target market and built my pricing structure around the value proposition of being handmade and unique. That would have increased my margins substantially.
Promotions – I started running sales and contests too early on which led to my customer base anticipating sales and thus not purchasing as often at full price. Of course this lowered my margins.
Advertising – Being a very visual product, Instagram ended up being the best form of advertising and generated 5,000 Instagram followers within a few months which led to 80% of my sales coming from Instagram. This advertising was free as I was posting the pictures to my own account and ended up being quite successful. Facebook paid advertising and Google Adwords had a much lower ROI as very few actual purchases were generated through either of them. Further down the road, Facebook paid advertising and Google Adwords could have proved profitable but with such a new brand it was difficult to obtain premier placement on a small budget.