Hi Folks,
ESSA would like to officially announce that we will be hosting our annual Career Fair on March 4, 2015 at 5pm in the Earth Science Building foyer.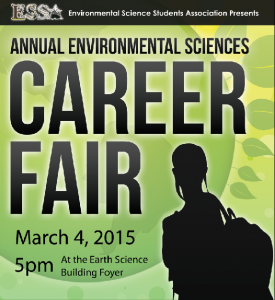 Last year, we had 21 different groups and several hundred students come out to the event. This year, we will be inviting NGOs, private companies, government organizations and alumni related to the field of environmental science to help you learn more about what you can do with your degree, to network and to socialize.
Stay tuned to see who will be on our guest list!
Also check out these photos from last year's Career Fair!