Hi everyone,
Welcome back from another amazing summer! It's a new school year, and we're happy to tell you who our new executives are for 2016/2017. Don't be shy, come talk to us if you see us on campus or come visit the clubroom in EOSM 208J. We won't bite, promise. We're here to just hang out, give advice, listen to your concerns and hear about any new ideas you have for the club, whether it be social gatherings or volunteer opportunities!
Just remember, a man once said, 'the beauty of [us] is that [we're] very rich – [in awesomeness]. We're here to Make ESSA Great Again. But who are we kidding, we've always been great.
Andrea McDonald, Co-President
Hi Friends! I'm Andrea, and I am one of your Co-Prezzies for this 2016/2017 ESSA year! A bit about me: I love the environment, I love warm socks, I love pandas, doggos, and sea creatures, and my favourite tree is the Western Red Cedar! You can find me in the ESSA club room most of the time so come on by and say hello! Lets make this year the best 2016/2017 that's ever happened!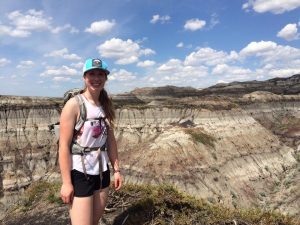 Moe Nadeau, Co-President
Hello ESSA members! My name is Moe and I am this years co-president of ESSA with the lovely Andrea. I have been a member of this wonderful club since second year and I look forward to creating a fun and inviting atmosphere for all environmental science and like minded students to enjoy. Some of my favourite past times include snowboarding, hiking, basketball, and snapchatting cute pups on the street. If you ever see me hanging around the club room, please come say hi!
Cherry Tam, VP Administration
Hey there, I'm Cherry and I am in my fifth (and final) year at UBC. I am in the Ecology and Conservation stream of ENSC and I absolutely love it. In my spare time you'll find me surfing the Web, singing mid-2000s pop songs, and/or stressing about what comes next after graduation. Come say hi if you see me around!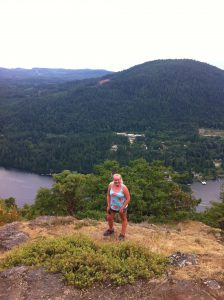 Linnea Harder, VP Academic
Hi there! My name is Linnea and I am the 2016/17 VP Academic for ESSA. I'm currently in my fourth year at UBC pursing a degree in Environmental Science focusing on Ecology and Conservation. I aspire to travel to Sweden when I graduate, but for know, during my spare time I like to go hiking, kayaking, and running.
I've been involved with ESSA for the past couple of years, and it has been such an amazing experience full of so many awesome people! If you ever have any academic related questions feel free to email me at
linnea.harder@alumni.ubc.ca
, and come check out some of our events!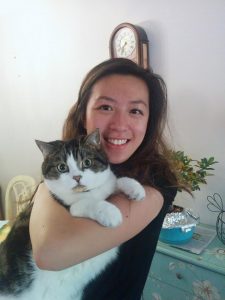 Audrey Tung, VP Communications
Audrey is sorry to say she is a Boring Person who doesn't have many hobbies other than falling off bikes, reading, cooking, and talking to cats. She is graduating this year and really likes Camembert cheese.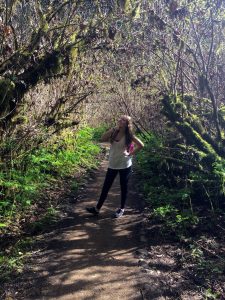 Chloe Hudson, VP Social
Hey there ESSA! My name is Chloe and I am so stoked to be your VP Social this year! I'm in my fourth year and am specializing in Ecology and Conservation. I love hiking, skiing and dancing! I'm also very involved with my sorority, Alpha Gamma Delta. I already have some fun ideas for social events in the works, but with that being said, I really want to hear about what YOU want to do! You can email me at chloe.hudson7@gmail.com. My inbox is always open.
Andrew Chan, VP Finance
Hi everyone! I'm Andrew and I am this years VP Finance of ESSA. This will be my first year involved in the club and I'm really looking forward to some of the upcoming events planned. A bit about me: I like hiking, biking, playing soccer, playing with my dog, and doing the robot.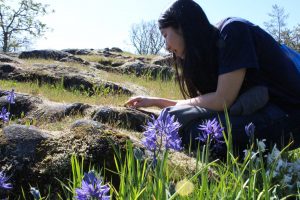 Joyce Chan, VP Sustainability
Hi! I'm the VP Sustainability. I'm a 4th year in Ecology and Conservation, and I am all about protecting all of the amazing organisms that inhabit earth! I love exploring nature-y places, crawling into bushes, and seeing beautiful views. I'm a huge plant nerd, so ask me about plants! (Except how to grow them. I'm not so great at that. I know a bunch about taxonomy though!)
Michelle Nguyen, VP Promotions
What up, ESSA? Alas, it is sad to say that I'm in my last year at UBC. My role in ESSA is to let you know about all of our upcoming events, workshops, and any other additional information that you may want to know about.
I'm a true 90s girl, I love the Backstreet Boys, *Nsync, the Spice Girls, and Savage Garden, or older generation rock bands such as the Red Hot Chili Peppers and U2. If I'm not attached to my laptop, you'll find me taking pictures around Vancouver, playing ultimate frisbee, or hiking. Give me a shout if you see me around!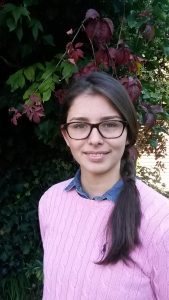 Agatha Czekajlo, VP Professional Relations
My name is Agatha Czekajlo and I'll be your VP Professional Relations this year! I'm currently in my 4th year at UBC pursuing an Environmental Science major in Ecology and Conservation and a minor in Philosophy. I am most interested in ecological management, which includes invasive species management and ecosystem remediation. I'm still exploring potential future career routes so being the VP of Professional Relations will allow me to do that for other environmental science students as well! When the weather is cooperating I enjoy immersing myself in nature by taking scenic hikes or gardening, and when it's not I enjoy staying in with a cup of tea and organizing my stamp collection while watching a good indie movie. I would love to hear about your environmental interests and professional/academic goals, as well as answer any questions you may have!
Steven Sy, 3rd Year Representative
Hi everyone!
My name is Steven Sy and I'm your Third Year Representative. Heres a little bit about myself: I'm a big fan of the Canucks, I love to take photos and I'm hoping to study Environmental Management in the future. My favourite Disney movie is Up, in case you were wondering! While my favourite place in all of BC is right on the tip of Gary Point in Steveston. Its the perfect place to relax and watch the sunset after a long day.
If you ever want to chat, my inbox is always open!
Tyreen Kapoor, 2nd Year Representative
My name is Tyreen Kapoor and I am so excited to be a part of the ESSA team this year as a second year rep! Last year I made the trek to UBC from a small town in Nova Scotia, and I am so excited to be in Vancouver and to have found a branch of science that I am truly passionate about. In my free time you can catch me hiking, camping, biking, or holed up in the library with a textbook. I love chocolate and dogs, and I especially love getting to know new people!
Kathryn Choi, 2nd Year Representative
Hi everyone! I'm Kathryn, and I'm one of the second year representatives for this year. When I'm not at school or on the bus, I'm probably annoying my cat Pippin (hit me up anytime if you want to talk about cats). My biggest interest is in animal welfare, and would like to somehow integrate it into sustainability in the future! I'm also kind of an expert on UBC's (confusing) payforprint system so ask away. I'd love to meet as many people as possible in our community so please say hello! P.S. The picture is from the summer, look for me with shorter hair!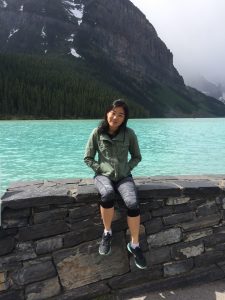 Jihyun Kim, 2nd Year Representative
Hi, my name is Jihyun and I grew up in Calgary, Alberta. I am passionate about the environment and I love exploring wildlife and nature. As my love for animals and wild things sprouted from the earliest for my childhood, I am especially interested in the ecology and conservation aspect of this major. I'm super excited to be part of ENSC, as well as ESSA, and can't wait to see where my years here at UBC take me.