Welcome back, fellow nature enthusiasts!
Are you ready for all the fun and adventures this year? Well, ESSA is certainly ready to be back to serve you and to make awesome memories with y'all!
First thing first, WE HAVE 4 POSITIONS OPEN IN OUR EXEC TEAM! Submit your nomination if you want to become our VP Professional Relations, 2nd Year Rep, 3rd Year Rep or Grad Rep! Nomination is opening from Sept 14th to 18th. That's next week! Voting will be happening soon after. Check out our Facebook group for details of the positions!
And next….. *drum roll please*…..
OUR 2ND ANNUAL EOSC CAMPING TRIP is open for sign up on MONDAY!!! Come to Squamish Valley Campground with us (again) to make this the highlight of your year! We will provide round trip shuttles, tents and snacks! All you gotta bring is your sleeping bags & mats, and yourself! It goes without saying that since this is a 19+ event, you could bring your drinks. So, camp fires, smores (omnomnomnom) , jamming (if you bring your guitars), fishing(!?)……this is the time to relax, have fun, meet new friends, and reunite with your buddies!
THROWBACK PHOTOS!

 Our beautiful campsite view!

 The quick-wait-we-are-not-ready photo!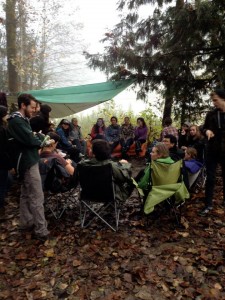 Ready for campfire?!
OH you asking how to sign up now? You could…….
1. Drop by our booth in ESB next week (check our fb group for time!)
2. Visit our club room (@ EOS Main Rm 208J)
3. Talk to any of our execs if you can catch us! 😉
Last but not certainly not least, a reminder that the PHOTO CONTEST VOTING is on NOW! Deadline to email us your pick of favourite is by SEPT 18th midnight!
Alrighty, that's about it for now. Hope to catch you all soon!
Don't (ever) hesitate to drop by our club room @ EOS Main Rm 208J, or email us at ESSA@GMAIL.COM if you have ANY questions 🙂