In some Olympic sports thousandsth of a second matter. In the men's doubles luge run the difference between the gold and silver medals was about 1/2 a second (.522 of a second to be exact). Lugers compete against a timer and luge is probably one of the most precisely timed sports in the world. Just to be clear, luge specifies a base weight (90 kg for individuals, 180 kg for doubles) and lugers may add weights to their sleds so that each run is precisely the same weight, and skill in maneuvering the track is what accounts for differences in time.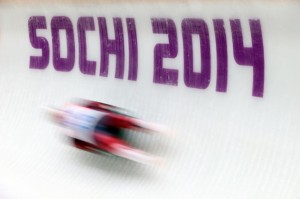 Luge is a sport that is judged entirely on the outcome ~ the shortest time. How you get there doesn't matter, other than that it is understood that following the "perfect line" is likely to get you to the finish line in the least amount of time. However, in luge nuance is critical. But often that nuance escapes even the knowledgable commentators who attempt to give spectators a sense of what is happening during a luge run. Mostly it comes down to a better run is one where the luger moves very little and doesn't hit a wall!
For those of us doing program evaluation in the world of social, educational, health, policy interventions we might envy such precise measurements, but the work we do is different in a number of ways. Precision of measurement must be judged within the context of evaluation. First, we have no singular and unambiguous outcomes to measure. Our outcomes are constructs, ones that depend for their definition on values and ideologies. For example, poverty reduction might be an agreed upon outcome, but how that is conceptualized is quite elastic. And poverty reduction is likely conflated with other constructs like food security or affordable housing. Second, measures used in evaluation are not like time. We have no analogous high precision outcome measure to time in luge competitions, in large part because of the ambiguity of our outcomes. And last, we seldom want to give up investigating process and focus solely on outcomes. In the social world, how we attempt to ameliorate problems is an essential component of the quality of those efforts… outcomes matter to be sure, but getting to outcomes matters as much, and sometimes more.