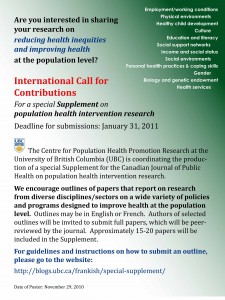 Are you interested in sharing your research on reducing health inequities and improving health at the population level?
Today is the launch of an international call for contributions for a special Supplement of the Canadian Journal of Public Health. The Centre for Population Health Promotion Research is collaborating with various universities and centres to coordinate a collection of papers on population health intervention research for the Supplement.
The call is now closed (as of February 15, 2011).
For more information, see the Special Supplement page.