Gordon Neighbourhood House
Not every neighbourhood is lucky enough to have a neighbourhood house–many people may not even know what a neighbourhood house is!  Neighbourhood houses, according to the Association of Neighbourhood Houses BC, are hubs that provide services and programs to engage the surrounding community.  Our team will be working with Gordon Neighbourhood House (GNH), a bustling community centre located in the West End of downtown Vancouver.  GNH provides a variety of services for West End residents, from day care to activities for seniors. Established in 1942, their goal is to create engaged citizens and support the dreams of the community.
Our Team
Our group consists of members from the Food, Nutrition and Health (FNH) program and the Applied Biology (Plant and Soil Sciences).  Trina is a fourth year student who is passionate about educating the public about nutrition health.  Megan, a third year FNH student is interested in the diversity of global food systems.  Yining, a fourth year FNH student, wants to learn more about the connections between nutrition, health and the food system.  Arthur, a third year international FNH student from China, is especially excited to gain insights into the food system of Canada compared to China.  Finally, Andrea, a third-year Applied Biology student, wants to learn about how to engage communities with their local food systems.  GNH was among our top three community partner picks because we were all interested in learning more about food systems, especially our local food system here in Vancouver.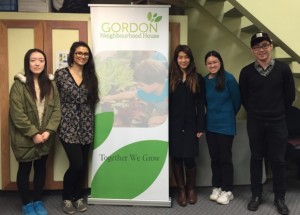 Our team: Yining, Andrea, Trina, Megan, and Arthur.
GNH: Food Philosphy
Among the many services and programs offered by GNH, they provide a variety of food-related services such as community lunches three times a week, cooking workshops, weekly soup making sessions, an organic food distribution co-op, as well as herb gardens and three urban farms within the city.  The Food Philosophy of GNH recognizes the individual's right to access nutritious foods but also acknowledges the role of food beyond nutrition to "act as a vehicle for community-building."  When we met with Stephanie Shulhan, the Community Programmer at GNH, she explained to us that it is because of this philosophy that they try to incorporate food or snacks into most of their other non-food programs at GNH.  In this way, GNH is building community food security by facilitating access to food and strengthening social connections within the community.
The Project
Our team will be working with Stephanie and the GNH Outreach team this semester to update their (local) Community Food Resource Guide.  Their current guide is not interactive or user-friendly, and so it is not adequately serving the needs of the community members and GNH.  Instead, this guide should reflect the level of engagement and energy present at GNH.  To determine the specific needs and scope of this project, we entered our first meeting with Stephanie with open ears.  After reading about the project description and about GNH our team was full of exciting ideas and visions of future plans.  However, we tried (relatively successfully!) to follow the advice outlined in Ernesto Sirolli's TED Talk, 'Want to help someone? Shut up and listen!' By listening to Stephanie explain the vision for GNH and the resource guide, we already have a clearer picture of the strengths of GNH and how our project will be able to facilitate the goals of this project – namely, discovering current and local food resources for the guide.  Using the principles of Asset-Based Community Development (ABCD), it was easy to focus on the assets of GNH, due to their strong level of community engagement and successful implementation of programs for the West End community.  Our project, however, is based around improvements to their food guide, so we will have to make sure to focus on the positive aspects of the West End and GNH.  For example, there are already many good resource leads in the guide and we have already begun to work with GNH to follow up on other resources that can be utilized by the engaged members of GNH.
To Be Continued…
Our team is eager to learn more about GNH and how they have managed to engage the denizens of the West End.  In the process, we will be conducting research into what people and places make up the local food system of the West End, all the while applying concepts we have learned in LFS 350.  Until next time, we can't wait to tell you what we have discovered!
– GNH Resource Guide Research Team