Migrant and Undocumented Workers in the time of COVID-19
It has become clear that experiences of COVID-19 are highly uneven. Collaborating with the Migrant Worker's Centre, Migrante BC and other migrant organisations, Vanessa Banta, Gabriele Dumpys-Woolever and I are documenting the experiences during the pandemic of migrant and undocumented workers in the Vancouver area who doing different forms of essential work — from work on container ships to jobs in agriculture, service industries, healthcare and family care. COVID-19 has significantly increased these workers vulnerability, even as they do the essential work that all Canadians rely on. Increased precarity takes different forms for different workers: many migrant workers are doing essential work that renders them vulnerable to the coronavirus, in some cases they are working in sectors (e.g., restaurants) in which they are vulnerable to being laid off and slipping into undocumented status, and many are made vulnerable by insecure access to health care and other benefits, especially problematic during pandemic.
Testimonial Theatre and Transnational Dialogue
Collaborating with the Philippine Women Centre of BC, Caleb Johnston, Vancouver theatre artists and I created a testimonial play, Nanay, based entirely on research transcripts gathered over the years in Vancouver with the Philippine Women Centre of BC from interviews with domestic workers, their families, employers and nanny agents. Nanay was performed at the PuSh International Performing Arts Festival in Vancouver in February 2009 and at the Hebbel Theatre in Berlin in June 2009. Portions of the script were read at the RGS conference in Edinburgh in July 2012. The play was performed in Manila at PETA theatre in November 2013. We returned to Manila in summer 2014 to revise the script in collaboration with a migrant organisation, Migrante International, and Teatro Ekumenical. Now a site-responsive script we did more research to gather new local stories of Filipino migration. The renewed play was presented in the migrant-sending community of Bagong Barrio in Caloocan City in metro Manila in October 11 2014
In December and January 2014-15 Caleb Johnston and I collaborated with theatre artists in Whitehorse to adapt the play to circumstances there, adding testimony of Filipinos who have migrated as temporary foreign workers through the Yukon Nominee Program.  We then collaborated with Tlingit and Filipino artists to develop a new performance piece entitled Tlingipino Bingo  as a means of generating dialogue between Filipino and Indigenous communities in the Yukon. Tlingipino Bingo was performed as part of the Nuit Blanche festival in Whitehorse in June 2016. We explore the travels of Nanay and our wider interest in research-based theatre, performance, politics and public debate in Migration in Performance: Crossing the Colonial Present (Routledge 2019).https://www.routledge.com/Migration-in-Performance-Crossing-the-Colonial-Present-1st-Edition/Johnston-Pratt/p/book/9780367138301
The play lives on. In spring 2019 we collaborated with Hazel Venzon, Migrante Manitoba and the Migrant Solidarity Network to create three new scenes for Nanay from interviews in Manitoba. A script reading was performed at the Prairie Theatre Exchange Festival of New Works in May 2019.
Anticipating Alzheimer's: Transnational Eldercare and Emerging Geographies of Dementia Care
Caleb Johnston and I collaborated with the Berlin-based theatre company, Costa Compagnie, on a new performance work entitled 'Between Worlds', focused on eldercare in Thailand for families from the Global North (mostly Switzerland, Germany, Britain and the United States). The performance was premiered in Berlin on November 7-9 2019 and presented at Northern Stage in Newcastle November 13-15 2019  http://www.costacompagnie.org/en/2019/09/07/2019-between-worlds/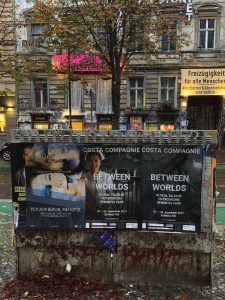 This is part of an emerging research programme with Caleb Johnston on new geographies of dementia care, including the transformation of spatial relations of care through emerging gerontechnologies.
Critical Prison Education
I have worked with colleagues at UBC to put in place a walls-to-bridges model of post secondary education in a federal women's prison in British Columbia. This involves combined classes of 'inside' and 'outside' (UBC) students learning together at the prison in university-accredited courses.