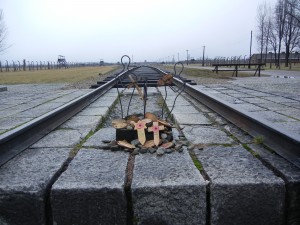 Reading If This Is A Man (which I'm going to call this book rather than the disgustingly simple title of our book) impacted me in a new way that I hadn't experienced before when reading about Auschwitz and the Holocaust due to two things: 1) the way that he is dissociated from everything around him 2) While travelling, I visited Auschwitz.
Before I started travelling, I knew that for my own growth and some other unkown reason, that I wanted and needed to visit the Auschwitz camp. The majority of the shoes, clothing, suitcase, eye glasses and hair, are still at the camp in an area called Canada. I know the name and placement and relation of the places/camps he is talking of, and the photo I have attached to this blog is the one photo of the camp that I felt inclined to take. The photo is a memorial that someone (I'm not sure who) created and left at the end of the train tracks in the Auschwitz camp, very close to the cremators, where millions of people were sorted into prisoners, or people to be killed. In the center of the photo, in the distance, you can see the watching towers that have/had a complete view of the camp, where guards watched 24/7. But there is something more that is still in the camp; there is an essence of the suffering of thousands of people, that lingers on the cobblestones and dirt in both Auschwitz and Birkenau (the women's camp). Just walking through, I experienced a difficult internal fight to not dissociate from what I was seeing and experiencing, because that would defeat the point of going to the camp.
While reading Levi's work I was reminded of this dissociation through his own struggle for survival and himself. At first, it is almost angering how dissociated he can appear through this autobiography. There are lines such as "of all the others [(prisoners on the train)], more than five hundred in number, not one was alive two days later." (p.21) where he states the fact with no follow up, and no outrage, that it made me outraged and depressed.  How could he be so dissociated from that knowledge that there is no response from him? Then I remembered my own experience and understood that what I experienced, in a minute way  (I am in no way trying to say that I understand what he went through), he comes to a point where he can't emotionally respond to this information in order to stay sane. With this understanding, the autobiography became more depressing and left more of an impact, than if I had just read it with anger.
I'm interested in talking about our responses to this autobiography, in relation to how he responds to his surrounding.