In my previous post, I describe how Jeet Heer has redefined the limits of Twitter by numbering his tweets to make up larger, structured "Twitter essays." Here, I argue that these numbers don't only serve to create a narrative, a progression, an ordered list of ideas.  They do something else that is also quite interesting.
Ordinal position aside, the numbers themselves also serve to mark an individual tweet to identify it as part of a larger structure, so that it cannot easily be taken out of context. Think of it as a brand or a daub of paint on a sheep's coat: you come across a lost lamb with a blue mark on its coat, you just know it's part of a larger flock.

Does an "unmarked" tweet (if I can use this term to talk about plain old regular non-Jeet-Heer tweets) stand alone, or must it be taken as part of a cluster of tweets, if one exists, on the same subject?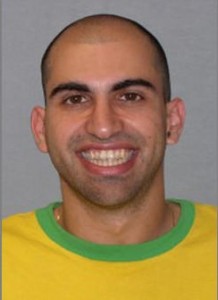 In our class discussion forums a few weeks ago, I mentioned the case of Steven Salaita, a Palestinian-American professor who had his an offer of a tenured position withdrawn over concerns about the content of some of his tweets.  The trouble here hinges, I think, on whether context must be considered when it comes to interpreting his words. Taken in the context of a larger body of work, Salaita himself says that his "history of tweeting and general political commentary…indicates quite strongly and clearly that I'm deeply opposed to all forms of bigotry and racism including anti-Semitism."
In isolation, though, we see a tweet like this:
Zionists: transforming "anti-semitism" from something horrible into something honorable since 1948.
…and perhaps it's understandable that Salaita's critics are upset.
If we were to quote a statement by Salaita from – say – an essay, we'd provide a reference to that piece. You, as the reader, could go to the essay itself for more context. The essay is a discrete unit stands alone to make an argument. And it is to that unit that we go to if we have questions about a quoted passage.
But when we quote a tweet, the reference is only to the tweet itself. (Here are APA guidelines for how to cite a tweet). How far forward or back in someone's tweet corpus must we look to be satisfied we have enough context? What are our responsibilities as readers? What are the boundaries of a twitter storm? What is the flock that holds our unmarked sheep?
Jeet Heer has done something more than create a narrative when he numbers the tweets in his Twitter essays. He has found a way to mark an idea as being part of a larger structure, and — at the same time, in the larger essay — has also demarked the  contextual boundaries for the idea or argument (tweet1 to #theend).
This doesn't help Salaita, and I for one will be extremely interested to see whether the present legal battles touch on this question of context. And I don't think it really helps the rest of us who may be disinclined to created numbered series for everything we tweet as a matter of course! But it is another way in which Heer's creative approach here brings additional richness to the medium.