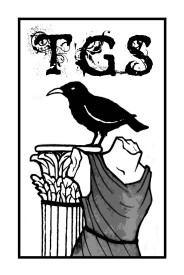 The latest excitement in my life was applying to and getting on board the editorial team for The Garden Statuary, a fairly new student-run journal for creative and academic work. Hurray!
I haven't done this kind of editing in four years (proofreading people's last-minute papers isn't quite the same…) and am looking forward to seeing the kind of creative work that students are producing.
Which brings me to my next and very predictable point:
If you are even the least bit interested in submitting your work, please do! You must be a UBC undergraduate at the time of submission, but that's about the only stipulation. (Oh, and don't plagiarise. Because we all know how uncool that is.)
We accept academic essays, fiction, non-fiction, poetry, stage/screenplay, artwork, photography, illustrations, and even film and music. For more details on submission length and format, check out The Garden Statuary website. The deadline for the Term 1 issue is Monday, 7th November.
Alternatively, if you would like to sign up for the email list, just fill out a comment with your name and email below (your email won't be displayed).
I can't wait to see what you come up with!