Xiaoye Zhang in her blog "the troubles given by iPhone" writes about how iPhone might be facing problems in the future due to expensive service plans. Till now iPhone was the only touch screen smart phone in the market, and due to that it has a huge brand name.
But now Samsung galaxy smartphones are giving equal fight to iPhone. In fact, I believe that in the long run Samsung galaxy will defeat iPhone just because it is compatible with companies which provide cheaper services. The best example is wind. Samsung Galaxy S3 is a great innovation which gives equal competition to iPhones in today's market. In fact it is better off than iPhones because it is working in collaboration with a cheap network company like Wind, mobilicity etc.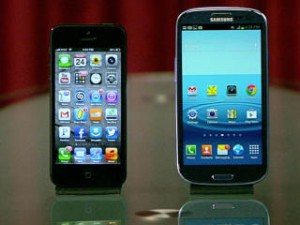 These days all the smart phones have all the features. Apple iPhones and Samsung galaxies are substitutes and people are slowly getting indifferent of whether they have an iphone or Samsung. Due to this people have started looking at services that they get with the phone. IPhone works in collaboration with Rogers, bell etc which are referred to as the expensive company's as compared to wind, mobilicity etc., which are relatively cheaper with the same services. Samsung's compatibility with the cheaper companies has increased the power in their hand as they can now attract more customers. Mobile phones and network services are complimentary goods therefore cheaper services of Wind will always be an asset for Samsung galaxy S3 and also act as a doorway to defeat iPhone. Wind deals include wind tabs with services including unlimited calling and data, all for only $30 whereas Rogers and Bell have all their plans starting from $50. I think iPhone needs to collaborate with cheaper services if it wants to maintain its image in the market.