Making a marketing video instead of doing a regular presentation excited me in the beginning of the term! It would be my first time shooting and making a video, which I wanted to but never knew how to start doing before this marketing class.
Through the video project experience, I learned to use a video camera to catch shots and use the iMovie software to edit video clips. This video project also made me realize how much creativity has been lost throughout my education in the past 18 years. I had difficulty thinking about a creative approach to deliver our business analysis and recommendations, which was supposed to be the highlight of this project. Luckily, my teammates came up with the idea of acting like Mad Man, the popular TV show, to express how Blackberry is desperately asking a marketing firm for suggestions to make revolutionary changes to save the company. In order to imitate the environment of the TV show, we bought Nestle ice tea powder to create "Scotch Whisky", borrowed cigarettes from dad, and we all dressed up like in the 1960s. It was very fun and exciting to make all those efforts to create the best video shooting atmosphere.
Learning fundamental marketing principles is important; applying those concepts into real-life problems is more valuable and challenging. Through out the course, I realize that opening my eyes to look at all kinds of marketing activities happening around me can support me to become more thoughtful and creative. I desire to think out side the box while hitting the key points that are necessary. Merging myself to the local culture while having my own unique point of view, knowing how famous products are influencing people's life, and understanding different perspectives on certain marketing campaign and phenomenon would definitely increase my confidence and allow me to think more bravely and freely.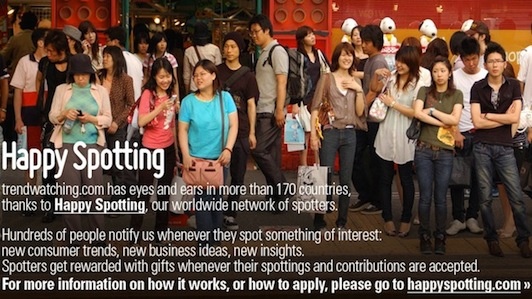 This is where I am going to start! Happy Spotting!http://www.happyspotting.com/index.php?page=index