Currently listening to: "Camping Ste-Germaine" – Les Cowboys Fringants
In my previous post, I mentioned reading two books lately, one of which was reviewed and discussed in the last entry. After having rambled about blogging earlier, today's entry focuses on university education…of sorts. Having briefly flipped through The Unlikely Disciple at work the other day, I was intrigued. The concept is simply quite funny in and of itself. Kevin Roose, previously an Ivy League university student, takes on a semester at Liberty University, America's holiest evangelical Christian university, in order to gain an insight into this growing youth demographic, and writes this tell-all exposé of his exploits there.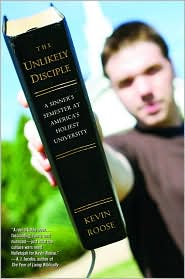 I find this book particularly fascinating because it opens up an entirely different can of worms altogether. Consider this: an entire university where courses, residence guidelines, students' behaviour, even political affiliation, is based on fundamentalist Christian doctrine. Founded by Dr. Jerry Falwell (who holds socially reprehensible views on issues such as terrorism and homosexuality – Google him, he's either adored or despised), Liberty University is a veritable bastion of the Christian Right (in fact, one part of the book mentions how not a single liberal or socialist is hired there). If any other religion tried to open up a school in the States proclaiming that the purpose of the school was to encourage fundamentalist [whatever-religion-it-is] doctrine, espousing specific political views, it would probably meet with intense disapproval and scrutiny from most parts of government and society. Yet here Liberty University stands, every aspect of the institution linked to Christian moral and doctrinal views. Roose starts off the book with a bleakly humourous anecdote about a dorm mate who risks expulsion for partying. Yes, all aspects of students' lives, including hair length, relationships, and political affiliation, are to adhere to "Christian doctrine". Failure to meet "expectations" results in demerits and monetary fines. Now that's not even quite as terrifying as a particularly frightening chapter, where Spring Break takes the students proselytizing at Daytona Beach to Spring Break partiers from other universities, ranting about their souls and eternal damnation (a very reluctant Roose follows along and endures reprimands from his fellow students about not being hardcore).
Roose then goes into descriptions of some of the courses he is taking – a mixture of Christian morality and Western philosophy, Creation Studies. And then some. Add to that residence life – dorm RAs who give reprimands for using the word "hell" in a non religious context, gay-bashing en masse, and the rush to get married within the undergraduate population – but wait, he is torn! How can all this co-exist with perfectly delightful people who have ambitions of their own, and who have done nothing but treat him with utmost kindness? And most importantly, does Roose return to Brown University with a changed perspective? Read the book to find out. It is brilliantly-written and articulate – not to mention terrifying and hilarious, all at the same time. Yes, you will rant and you will rave; you will laugh and cry and maybe you might be so irate you'd throw down the book in a fit of rage. But oh, so funny.
Tags: books5 Comments