This is what the new Earth Systems Science Building (ESSB) will look like in a few years: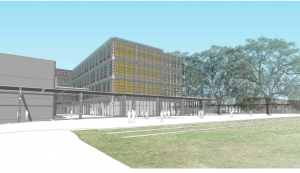 This is what the oppression of indigenous communities' rights looked like in Guatemala in January, 2005 (including 1500 police and 300 military officials to fight 2000 indigenous farmers):
Unrelated?
Not as much as you would like to think.
In 2007 UBC received a $5 million grant from Goldcorp for the ESSB, which will include a 'Goldcorp Inc. Teaching and Learning Wing,' and President Stephen Toope said that the University was 'absolutely delighted' with the participation of Goldcorp in the project.
As any informed Guatemalan, talking about Goldcorp is a little touchy for me. And so with all the news about SFU I decided to look into what links exist between UBC and Goldcorp, one of Canada's largest multinational gold mining companies. It turns out that there are quite a few.
Apart from the ESSB; the Liu Institute for Global Issues, the National Centre for Business Law and the Mineral Deposit Research Unit.
All 'supported' by Goldcorp.
Why should I care?
Since 2005 Guatemala has seen the environmental and social effects of mining. All thanks to Goldcorp.
The communities of San Miguel Ixtahuacan and Sipacapa have been home to the Marlin mine, an open pit gold and silver mine. If you know a little bit about open pit mines you know what they do do their environment.
Total destruction of vast areas of what has been agricultural land for hundreds of years. Also, according to a national environmental NGO, the mine uses in one hour the amount of water that a local family uses in 22 years.
Constant explosions have cracked the walls of at least 150 brick houses in the area. The company argues that it is the residents' fault because of the volume of their speakers when they listen to music and their maize grinders.
Total disregard for indigenous people's rights, including the right to decide the use of their land, as was stated in our Peace Accords of 1996. The government and the mining company refused to consult local communities about this project. The communities responded by organizing their own consultations. Of 13 communities consulted 11 rejected the project, 1 abstained and only 1 supported it. The government has yet to recognize these consultations, further denying the people this right.
Contamination of water systems. To separate the gold from other rocks the material is 'bathed' in cyanide. Cyanide can have dangerous effects if released into the environment. One teaspoon of a 2% solution can kill a person. Just last month the Marlin Mine discharged cyanide-contaminated water into a local river (at night).
The disappearance of community leaders that rejected the mine. Also, increased conflict within families as they may include one of the 200 people benefitting from the mine (of about 60,000 residents).
In 2010 the Inter-American Commission for Human Rights of the Organization of American States, the Guatemalan Ministry of Environment, members of the European Parliament and hundreds of national and international NGOs have asked the Guatemalan government to order the immediate closure of the mine to ensure the 'life and integrity' of the 18 communities affected by the irresponsible mining practices.
The mine is still open.
What does UBC have to do with this?
Our clothes from the bookstore have a little label that says 'sweat-shop free.'
Our coffee at the Blue Chip Cookie is 'fair-trade.'
Our to-go plates and cups at any UBC Food Services location are compostable.
As much as possible, our food is organic and our eggs are free-run.
But what about the places where we are formed, where we learn how to do great things 'from here' and where we spend most of our time?
If we aim to be responsible and aware and global (and all those other nice things that we hear so much), shouldn't we seek partners that share our values as an institution?
I, for one, do not feel comfortable being part of Goldcorp's 'corporate responsibility.' It is because of these grants, which apparently we (?) are 'absolutely delighted' to receive, that bills such as C-300, which would have made Canadian companies responsible for their projects in other countries, failed a few months ago.
The story of this mine is replicated all around the so-called 'third world.'
As a 'third-world' student (and there's quite a few of us at UBC) I ask what promise UBC is making.
What example is our administration setting for our 'global leaders' to follow? What is UBC telling me, and so many other students, by accepting money from a company that is creating social conflicts and disregarding human and environmental rights in my country?