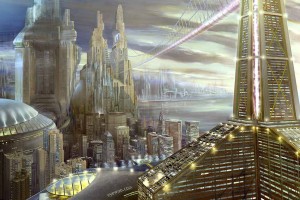 "Men had built cities before, but never a city such as this… Diaspar alone had challenged eternity, defending itself and all it sheltered against the slow attrition of the ages, the ravages of decay, and the corruption of rust…" Clark ch. 2
Virtual immortality, a concept that was, when Clark first fostered the notion of the city Diaspar, something only fit for the realm of the fantastical. As long as men have been sentient enough to realize the fact of their own mortality (and fear it), there have been those among men who have  devoted themselves to finding the secret to abolishing death. In today's world of technological and medical advances, immortality is no longer a simple fantasy, but an easily conceived possibility for the near future. Death has been pathologized; it is simply one more thing we can now work to cure, instead of fear. Those who have devoted their lives to finding this 'cure' are aware that their solution and our future waits in the age of the cyborg. An age in which cities and the people in them will become indistinguishable from the technology they depend on.  Already, we are 'plugged in' to the vast communication and information network that exists around us. Our generation will be the first to experience their own form of immortality, in the masses of information archived in online databases. How long will it be until the next step is taken and we move into an age where you can chose to maintain your consciousness through the ages. In reality, the process has already begun.
"I construct, and I am constructed, in a mutually recursive process that continually engages my fluid, permeable boundaries and my endlessly ramifying networks. I am the spatially extended cyborg." Mitchell pp. 39
We have yet to experience the true ramifications of a fully micro-documented past. It seems impossible that such a shift of attention towards the virtual persona could not have some sort of effect. There are those, having watched as relationships become increasingly impersonal, people gather less and 'communicate' more, and identity becomes an increasingly nebulous concept, who would say these effects have already manifested. We have begun to be defined not by our actions and interactions, but by how we present the events of our lives to others. Our digital memory is perfect in that it remembers everything we want it to and it does so on a scale that has never been seen before. Our privacy is both absolute and non-existent, in a digital environment that has no way of distinguishing fact from fiction. We have become dependent on the ease with which we collect and our distribute information; and for the first time, the trouble with information does not seem to be that it cannot be remembered, but that it cannot be forgotten.
"The old, the ossified, must always give way to new life and the birth of new things. Before the new things can be born the old must perish… Unless we can psychologically accommodate change, we ourselves begin to die, inwardly. What I am saying is that objects, customs, habits, and ways of life must perish so that the authentic human being can live. And it is the authentic human being who matters most, the viable, elastic organism which can bounce back, absorb, and deal with the new." Philip K. Dick
But it is not just our own lives that we have sought to preserve. Whether it is for convenience sake or for aesthetics it seems we have a fear of being forgotten. Evidence of our obsession is obvious in our efforts to preserve anything from data, to art, memories, sound, food, animal and plant life, and the physical world around us. People are focused on preserving what it is we cannot hold onto, and in our desperate race to immortalize the world around us there is one question that should be asked: what are the social and psychological implications of this immortality that we seek; what if we were meant to forget? Dick proposes that death is what allows for real life, we must be able to change to truly live. Perhaps we are in danger of becoming paralyzed, of becoming too invested in our emerging cyborg selves to realize that our hyper-connectivity has the potential to create stagnation and a dislocation from our 'authentic human' identities. Or, perhaps we are simply being ushered into a new age, and it is this new cyborg self, this kind of pseudo immortality that is the inevitable next step in our development.
"This is the way our ancestors gave us virtual immortality, yet avoided the problems raised by the abolition of death. A thousand years in one body is long enough for any man; at the end of that time, his mind is clogged with memories, and he asks only for rest-or a new beginning." Clark ch.2
Rest. For Clark, it is rest that solves the problem of immortality; citizens of Diaspar can continue to live because they can re-boot, leave behind the backlog of memories and experience and start fresh. But rest is a concept counter intuitive for those enmeshed within our technological culture. We allow our lives to be documented in the virtual landscape, struggling to preserve more and more everyday. We network, blog, twitter and facebook ourselves into connection with as many people as possible in order to extend our virtual footprint. Unlike the citizens of Diaspar, we cannot live forever, free to slip in and out of existence as we please, as of yet we must remain confined to our bodies, with our cyborg selves extended, preserving our existence. It is hard to say how this will effect us, maybe it won't; perhaps before long it will be us who are looking for the answer to a question: where is our reset button?
I