It is a signal of pressures in the human psyche for a new creature to evolve, powerful and yet baby-like, original and yet formless (The Trickster God and Fool), It is the need for a revolutionary quality of the imagination to evolve among us, an imagination which seeks to rethread the basic fabric of the inner (and ultimately the outer) world… (Van Sertima, 1995)
In a [Trickster] world good and bad exist, but it is hard to know sometimes which is which. (Phelan, 1996)
This picaresque character misses no chance for chicanery… as though he lives in a world that offers him no other chance for survival… to cope with an unstraight and crooked world one needs unstraight and crooked paths. (Van Sertima, 1995)
A foray into the unapologetic mess of New Crobuzon's sprawling mass, bulbous and bulging at the seams in haphazard and cluttered fashion, buildings oozing and streets littered with the detritus of its denizens, is an exercise in caution and suppression of scatalogical repulsion. The city teems with countless bodies of all possible make (or remake). The demography is anarchic and unpredictable; diasporic populations mark their territory along capricious borders. Khepri mix with vodyanoi mix with cactacae mix with wyrman mix with garuda mix with human, the boundaries between interactions skirting the line between thinly-veiled disgust, to polite condescension, to hidden passion, to ignorance. The city and its inhabitants are imbued with a sense of "metamorphic liminality" (Van Sertima, 1995); New Crobuzon is a "mongrel city" (Mieville, 2000).
Mieville has described the city as set in an "early industrial capitalist world of the fairly grubby, police state-y kind" (Marshall, 2003), a phrase that brings to mind a DIckensian vision of Gotham city, where the villains run the city officially (through Bentham Rudgutter and his Fat Sun fat cats) and unofficially (through Mr. Motley and his drug-running schemes), and the good guys exist like vigilantes from Sherwood Forest. Heroes are ambiguous and scarce. Against a confluence of negative forces ranging from the coldly calculating (the Construct Council) to the calculatingly murderous (Mr. Motley) to the murderously hungry (the slake-moths), Isaac Dan der Grimnebulin and his rag-tag band have few allies. Even their allies seem to have inexplicable motives. In Jack Half-A-Prayer we find an intriguing example of Bas Lag's answer to the caped crusader, a mysterious apparition, a "cloaked figure slipp[ing] out of some shadow, appearing like an eidolon, manifesting as if from nothing" (MIeville, 2000), but it is the Weaver's character that provides the threads, so to speak, from which the entirety of New Crobuzon is created. A higher power like the city itself, excessive and complex. A trickster god for a trickster city.
The trickster as trope has numerous incarnations, most of them not of human flesh. As rabbit, raven, coyote, and interestingly enough, mantis, one of the trickster's most famous guises is as a spider. Even housed within one form the spider trickster comes with many names: Anansi, Ananse, Annancy, a fitting habit for a shapeshifting creature, one who exists in many planes. Tricksters are anti-authoritarian darlings, shitting and eating and dancing and fucking and fighting, causing violence as easily as laughter. They are creatures to be learned from and lived vicariously through. Their exploits are by turns creative and destructive. Tricksters are "uniquely complex, ambivalent creatures, equalled only by humans in their multiplicity, grandiosity and desire" (Phelan, 1996). The trickster as bricoleur is a cut-and-paste creature – in New Crobuzon, literally that. A trickster's traditional talents encompass those of spinning, both of realistic and metaphorical thread, and of spinning tales and the use of language – two qualities shared by the Weaver. The Weaver oversees the upkeep of the worldweb, the elaborate underlayer of the city:
The crawling infinity of colours, the chaos of textures that went into each strand of that eternally complex tapestry… each one resonated under the step of the dancing mad god, vibrating and sending little echoes of bravery, or hunger, or architecture, or argument, or cabbage or murder or concrete across the aether. The weft of starlings' motivations connected to the thick, sticky strand of a young thief's laugh. The fibres stretched taut and glued themselves solidly to a third line, its silk made from the angles of seven flying buttresses to a cathedral roof. The plait disappeared into the enormity of possible spaces.
The Weaver speaks in the poetic language of dreams, words running over and under and after each other in seemingly nonsensical patterns, absent of punctuation or order, which somehow make sense as a whole, sometimes murmuring quietly to itself, sometimes booming into one's consciousness:
…LOVELY LOVELY AND YET THOUGH THEY SMOOTH EDGES AND ROUGH FIBRES WITH COLD NOISE AN EXPLOSION IN REVERSE A FUNNELLING IN A FOCUS I MUST TURN MAKE PATTERNS HERE WITH AMATEURS UNKNOWING ARTISTS TO UNPICK THE CATASTROPHIC TEARING THERE IS BRUTE ASYMMETRY IN THE BLUE VISAGES THAT WILL NOT DO IT CANNOT BE THAT THE RIPPED UP WEB IS DARNED WITHOUT PATTERNS AND IN THE MINDS OF THESE DESPERATE AND GUILTY AND BEREFT ARE EXQUISITE TAPESTRIES OF DESIRE THE DAPPLED GANG PLAIT YEARNINGS FOR FRIENDS FEATHERS SCIENCE JUSTICE GOLD…
In his collaboration with Isaac the Weaver's personality shows itself as conducive to acts of violence as it does to acts of aid. He is as likely to cut off one's ears as he is to tempt one into a game of tic-tac-toe. He is described as a "dancing mad god" (Mieville, 2000), nimble and graceful, cradling Isaac and his friends as gently as babies, a pure aesthetic appreciator, a fan of Isaac and his attempts at material artistry. Like a trickster the Weaver appeals because of its "black innocence. He is loved and loveable because his "evil" liberates rather than oppresses. He assumes aspects of evil in order to elide and conquer a condition of evil" (Van Sertima, 1995).
As a historical figure the trickster has been used as a postcolonial hero, a revolutionary symbol for the disenfranchised to rally behind. For the diasporic descendants of slavery the trickster embodies a force of opposition to a dominant group:
In his seminal book Afro-Creole, Richard D.E. Burton (using the French historian Michel de Certau's analytical categories) distinguishes between resistance and opposition: the former involves any kind of anti-systemic movement placed outside the system. Ananse's strategies, though, originate from inside the colonial system and belong to the second category: 'opposition takes place when the strong are strong and the weak know it.' (Deandrea, 2004)
In contemporary times the trickster has become a template for a certain type of political action. Postmodern and feminist intellectuals have advocated a trickster approach to for minority groups dealing with dominant opposition in the political arena, in which a playing field where only certain virtues are valued. The trickster teaches us to
question our assumptions about the virtues of virtue – the effectiveness and moral superiority of truth-telling, reliability, and stability. To assume that these are virtues or the only virtues leaves us locked in to certain choices as surely as [Trickster] is. We cannot assume that these virtues are always good for us. The rationale that they are required for social harmony and cohesion should lead feminists and other challengers of existing social formations to question them sharply. We have heard the same argument concerning the need to be respectable, non-violent, and polite, and we have experienced the double edges of these strategies; it is not insane to examine other social virtues thoroughly. (Phelan, 1996)
One can scarcely recall a world weighted more unfairly than that of New Crobuzon, where even the smallest of dissenting voices can be crushed with unimaginable cruelty. It is no wonder that such a world, of hidden heroes and questionable public figures, requires a trickster. Tricksters "suggest a world in which caution and care are called for, in which we cannot assume that we know who is who or what is what" (ibid.). The environment of New Crobuzon is one that commands the existence of a trickster to cultivate and nurture it, albeit in typical trickster fashion (for New Crobuzon is not without its criminals and whores, its sins and its vices).
It is in the disparate (though not mutually exclusive) threads of 'crisis energy' and 'social change' that we find an interesting locus of confluence: the trickster has been associated with a particular energy that is capable of inducing revolutionary change. The trickster is a symbol of "revolutionary energy at war within forms that seek to contain it, it is able to see from within, to act from within, move from within the roots of its world, to re-root that world, so to speak, to point the way forward to a new course, a new possibility" (Van Sertima, 1995). Isaac's academic obsession with crisis energy, that particular compulsion that happens "when you put enough strain on a group of people, [and they] suddenly explode. They'll go from grumpy and quiescent to violent and creative in one moment. The transition from one state to another's affected by taking something – a social group, a piece of wood, a hex – to a place where its interactions with other forces make its own energy pull against its current state" (Mieville, 2000). In New Crobuzon the deciding factor in Issac's success is due in large part to the Weaver's trickster abilities: its ability to exist in multiple planes, its creative desires, its understanding of the complexity and aesthetics of the entirety of the city's concepts. In contemporary politics it's a telling statement on what may be lacking in the interaction between the many who are disenfranchised by the few.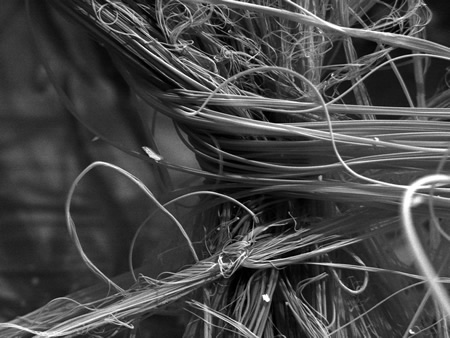 Works Cited
Deandrea, P. (2004). Trans(l)atlantic I-Con: The Many Shapes of Ananse in Contemporary Literatures. Journal of Transatlantic Studies 2(1), 1-26.
Marshall, Richard (February 2003), "The Road to Perdido: An Interview with China Miéville", 3:AM Magazine, http://www.3ammagazine.com/litarchives/2003/feb/interview_china_mieville.html, retrieved on 2008-04-20
Mieville, C. (2000). Perdido Street Station.
Phelan, S. (1996). Coyote Politics: Trickster Tales and Feminist Futures. Hypatia 11(3), 130-149.
Van Sertima, I. (1995). Trickster, The Revolutionary Hero. Egypt: Child of Africa – African Civilizations, 445-451.