I'm not a wine connoisseur, but through visits to various vineyards this spring, I not only took home delicious new wine varieties but also caught a glimpse of the intricate choices in wine making that shape our wines.
With a tasting menu in hand, I awaited the winery staff to ask the exciting question: "Which wine would you like to try?"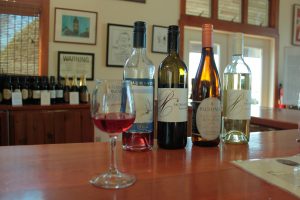 I would usually reach for the classic white wines and red wines, but deferring to the wineries' recommended specialties, I was pleasantly surprised by their varieties of ice wines, fruit wines, and rosés.
Though ice wines often can be excessively sweet, Lulu Island Winery offered a unique Pinot Gris which let me savor the distinct ice wine flavor without the heavy sweetness. Meanwhile at Paumanok Vineyards in Long Island, New York, their award-winning 2014 Semi-dry Riesling and Vin Rosé became my new favorites.
Since a rosé was not on my radar much before then, I asked, "What makes a rosé wine?" One casual question led to another, and in the developing discussion with the winery experts, the wine making process became much more imaginable.
Starting with the basics, using only the pulp of grapes makes a

white wine

, but leaving the grape skins on slightly longer into the wine making process makes a 

rosé

. Also compare the amount of grapes in one bottle of wine: the 750ml bottle of Pinot Gris I tasted was made from 3-5 pounds of grapes, whereas the same size bottle of their

ice wine

uses 30-35 pounds of grapes for a white ice wine, or 60 pounds for a red ice wine variety (12 – 20 times more grapes!). For ice wines, harvesting the grapes later into the freezing days of winter ripens and concentrates the grapes, and allows to compress a lot of grapes' sweetness into one bottle of ice wine.
Those are the broad types of wine, but every step of wine making affects a wine's finish: from handling the crop plant and soil, to adjusting the subtle flavors and aromas with different ingredients and fermentation processes, and to bottling and sealing.
Knowing the chemistry and processes of wine making, can wineries consistently make their great wines like the Lulu Island Pinot Gris, Paumanok 2014 Semi-dry Riesling, and Vin Rosé? Here is what scientists have done for us to help advance wine making; without them, we won't have the wines we enjoy today. Yet, as Paumanok Vineyards credited their great harvests in winning the New York Winery of the Year of 2015, consistent processes also depend on the source materials. 
Also, a wine's flavor is not only based on what we can analyze with numbers; the flavor is affected by

human perception

. Lulu Island Winery's white ice wines came in two flavors: a

Riesling Chardonnay

with honey flavors and a

Viognier

with mango flavors. Interestingly, most people naturally associate honey with a sweet taste, so even though scientifically the sweetness rating is higher for the mango flavored ice wine, the honey feels more sweet and heavy, and the mango more refreshing.
A more in-depth look of how scientists study the relationship between taste, smell, and our personal perception and tolerance to different tastes is covered in this article on wine tasting.
Comparing different flavors of wine is also comparing wine makers' careful choices in the wine making process and our tastes. The science behind delicious wine is better learned with tastings, isn't it?
I welcome stories about everyone's favorite wine tastings!