Identifying the influence of teaching practices on undergraduate students' mental health and wellbeing in the Faculties of Arts and Science
[watch video with closed captioning] 
Studies have indicated that mental health and wellbeing are connected to a student's ability to learn (Eisenberg, Hunt, & Speer, 2013; Keyes et al., 2012; Martin, 2010). Evidence also shows that different teaching practices affect student learning outcomes (Dennison, Gruber, & Vrbsky, 2010; Moulding, 2010; Svinicki & McKeachie, 2014). However, to date, it remains unknown whether teaching practices influence post-secondary students' mental health and wellbeing and if so, how. This TLEF- funded project seeks to identify teaching practices that are effective at both promoting effective learning and supporting student wellbeing.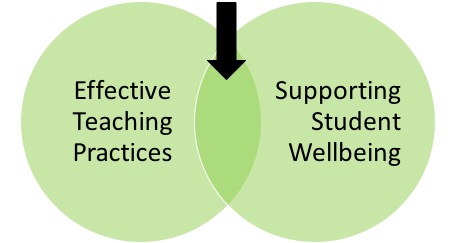 Year 1 of the project (2015-16) focused on data collection and analysis; year 2 of the project (2016-17) focuses on creating and sharing professional development resources for instructors.
Like to read about our published paper on this project:
Lane, K., Teng, M. Y., Barnes, S. J., Moore, K., Smith, K., & Lee, M. (2018). Using Appreciative Inquiry to Understand the Role of Teaching Practices in Student Well-being at a Research-Intensive University. The Canadian Journal for the Scholarship of Teaching and Learning, 9 (2). Retrieved from https://ir.lib.uwo.ca/cjsotl_rcacea/vol9/iss2/10
Lee, M., Wada, M., Cater, K., Goldman-Hasbun, J., Nga Le, T., Pang, M., Ma, C., Hambler P., Sun, C., & Jung, D. (2018). Conducting a university student mental health needs assessment using a participatory action research approach. SAGE Research Methods Cases. http://dx.doi.org/ 10.4135/9781526446664
Wada, M., Suto, M., Lee, M., Sanders, D., Sun, C., Le, T.N., Goldman-Hasbun, J. & Chauhan, S. (2019). University studnets' perspectives on mental illness stigma. Mental Health & Prevention, 14, 200159. http://doi.org/10.1016/j.mph.2019.200159
References
Dennison, S. T., Gruber, K. J., & Vrbsky, L. (2010). Research literature review on social work education instructional methods: 1998–2008. Journal of Teaching in Social Work, 30(4), 399419.
doi:10.1080/08841233.2010.517732
Eisenberg, D., Hunt, J., & Speer, N. (2013). Mental health in American colleges and universities: Variation across student subgroups and across campuses. Journal of Nervous & Mental Disease, 201(1), 6067. doi:10.1097/NMD.0b013e31827ab077
Keyes, C. L., Eisenberg, D., Perry, G. S., Dube, S. R., Kroenke, K., & Dhingra, S. S. (2012). The relationship of level of positive mental health with current mental disorders in predicting suicidal behavior and academic impairment in college students. Journal of American College Health, 60(2),126133.
Martin, J. M. (2010). Stigma and student mental health in higher education. Higher Education Research & Development, 29(3), 259274. doi:10.1080/07294360903470969
Moulding, N. T. (2010). Intelligent design: Student perceptions of teaching and learning in large social work classes. Higher Education Research & Development, 29(2), 151165. doi:10.1080/07294360903470977
Written by Teaching Practices & Student Mental Health TLEF 2015-17 team [April 2016]