Whats Growing On? 
As this course and this project are coming to an end, it is time to reflect on our most significant moment and appreciate the hard work and dedication that we all contributed to this cumulative project.
Final Updates on the Roof Top Garden  
The rooftop garden will end up contributing to the food hub produce market, as do the urban farms at present moment

They are also hoping to sell produce via the produce carts and continue to bring the produce into the community lunches

We've planted about 10 planters worth, with some more that already had produce. We planted carrots, radishes, lettuce and corn salad today.

Joey is using the crop map we gave her as well as the companion planting recommendations, she also explicitly thanked us for the help with the business license

The farm is getting to a place where it will be able to take care of itself come the late spring season
What
After much contemplation, we have come to the conclusion that the most significant moment in this project was seeing seedlings come up after a week of sowing the seeds. It was a symbolization of our hard work, and it was amazing to have been able to see some results before our departure. Throughout our project, while working on the crop plan and researching about companion planning, going to the rooftop garden was a small escape for us. Being able to connect and be a part of something that we have been so disconnected to,  is very rewarding. Moreover, learning about new crops is even more enchanting. For example, some of us never knew about sorrel, yet sorrel is a citrusy and delicious vegetable that is perfect for salads, and yet it grows like a weed. Who knew that a "weed" could taste so delicious?
So what
After seeing the new seedlings, we appreciate more of how we grow food and how much care is needed for growing crops. Now community members of Gordon Neighbourhood House have more access to food, thus, becoming more food secure. We also learned about how a community garden is managed and sustained. We also realized that numerous steps are taken before the goal can be reached. Moving on from this, we hope to be able to contribute to more urban farming sites.
Now what
Now that we have the community garden started for the year, the community member will have access to the rooftop garden and the food in the rest of the spring, summer and later into the fall. We gained many skills in organization, leadership, teamwork, and most importantly, urban farming. We have learned a lot during our discussion about food security and community lunches. Our community partner believes that food brings the community together [1]. People are happier after they helped out with the community garden and had food at the community lunches [1]. They like to hang out with the other people who come to help as volunteers, as well as us the LFS 350 students [1].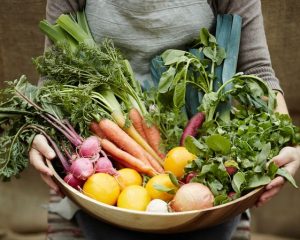 "The urban farm … contributes to a greater sense of purpose and community, for so many people being able to afford fresh, local, organic produce is a major luxury, even though it shouldn't be." [2]
Reflection After Friday March 31st 
Spending time working with Joey and some volunteers at the rooftop garden has really opened our eyes to true interconnectedness of food security. While growing some produce at an urban farm doesn't have the capacity to end food insecurity, the activity feeds into the bigger picture and reminds us where our roots need to be. As Joey told us today, "The urban farm provides produce for the GNH programs, but it also contributes to a greater sense of purpose and community, for so many people being able to afford fresh, local, organic produce is a major luxury. Even though it shouldn't be" [2]. At our final visit at the rooftop garden, we talked about how food is what brings people together, its universality helps us make connections across socio-economic statuses, cultures and even just as people. We also talked about how, because food is so universal, it helps us to identify when people are being left out of the movement. If certain people aren't coming to community lunches, or aren't able to volunteer at the farms; it's likely for a really good reason. Maybe they don't feel welcome, or they don't have the time. Growing produce and preparing it, putting it on the table, is one, really amazing thing. But making sure people feel welcome to come to the table, share their experiences and feel the warmth of one another, is a whole other, incredibly aspect of what GNH is doing. We really feel incredibly lucky to have been a small part of their movement.
Farewell
In conclusion, we all truly appreciate the opportunity given to us to work with our community partner Joey and with Gordon Neighbourhood House. From the start of the project, it appeared that being a group from diverse studies and backgrounds really helped us create a multidisciplinary lens in which to implement ideas. We focused on each of our diverse strengths and together we generated so much more than we could have alone (Phillips, 2014).
We wish Joey and Gordon Neighbourhood House the best, and for many fruitful harvests' to come.
References:
[1] Liu, J. personal communication, March 17th, 2017
[2] Liu, J. personal communication, March 31st, 2017
Phillips, K. W. (2014). How Diversity Makes Us Smarter. Retrieved March 30, 2017 from http://www.scientificamerican.com/article/how-diversity-makes-us-smarter/