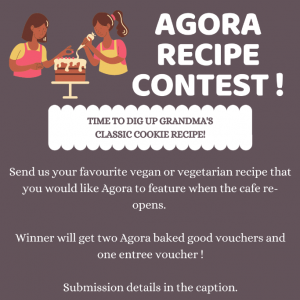 We're excited to see your favourite recipes and you could have a chance to see it featured at Agora Cafe. Could be a new lunch you discovered over quarantine or your go-to morning coffee recipe for exam week. Send us a vegan or vegetarian recipe you'd like to see Agora try out in our recipe contest.
Each recipe you submit to our google form counts as an entry into this contest and you can gain a bonus entry per recipe you submit by tagging Agora Cafe on Facebook, Instagram, or Twitter in a picture of the product of your recipe. Post, story, or tweet? Doesn't matter to us, but only one recipe submission per day and one bonus entry per recipe please. The contest is open for 5 days which means you could have up to 5 recipe entries and up to 5 bonus entries for a maximum of 10 entries.
This contest closes on April 2nd at 11:59 pm by which all recipe submissions and tags should be made by in order to count towards this contest. The winner will be chosen by random draw and the drawn recipe will be featured at Agora Cafe upon our reopening. The submitter of the winning recipe will also receive 2 baked good vouchers and 1 entree voucher by email for use at Agora Cafe. Simply show us your voucher email at the cafe to redeem your vouchers.
Ready to submit? Navigate to this link and submit your recipe as text, picture, or file. When tagging us on social media, make sure your accounts are public so that we can see your fabulous content.
Feel free to contact us if you have any questions and good luck!!