Archives by date
You are browsing the site archives by date.
By S on December 18, 2014
Just in time for term two. UBC Blogs is now running 4.1. Version 4.1 of WordPress, named "Dinah" in honor of jazz singer Dinah Washington, is now running UBC Blogs. New features in WordPress 4.1 help you focus on your writing, and the new default theme lets you show it off in style. More info […]
By S on December 17, 2014
For those noticing a different CWL login page it is because we have switched to CAS Authentication from Auth2. The big change to end users will be the bypass of the account creation process seen previously and more of a streamlined single sign on like behaviour. If you experience problems please contact blog.support@ubc.ca .
By S on November 20, 2014
UBC Blogs was updated to 4.0.1 . The 4.0x series is named "Benny". Please watch the release video to see what new features are available in 4.0 If you experience any problems please contact weblogsupport@ubc.ca
By Richard on September 11, 2014
UBC Blogs will be undergoing planned maintenance at 1am Friday 12th September 2014 and 6AM Friday September 12th 2014. Each instance should last for approximately 30 minutes. Thank you for your patience during these times.
By Richard on August 8, 2014
Yesterday evening, UBC CMS, UBC Blogs and CTLT Events were all updated to version 3.9.2 of WordPress. This release was made by the WordPress security team yesterday and included several security hardening fixes. Further details about the release on https://wordpress.org/news/2014/08/wordpress-3-9-2/
By S on May 8, 2014
UBC Blogs has been updated to 3.9.1 From WordPress.org : This maintenance release fixes 34 bugs in 3.9, including numerous fixes for multisite networks, customizing widgets while previewing themes, and the updated visual editor. We've also made some improvements to the new audio/video playlists feature and made some adjustments to improve performance. For a full […]
By S on April 29, 2014
WordPress 3.9 "Smith" details here. Enjoy!
By S on March 14, 2014
We have disabled XML-RPC across the network. This is is to prevent the UBC Blogs service from becoming a launch pad for DDOS attacks Any WordPress site with Pingback enabled (which is on by default) can be used in DDOS attacks against other sites. Note that XMLRPC is used for pingbacks, trackbacks, remote access via […]
By S on March 3, 2014
Couple new themes added both responsive both clean and modern, so give one of these a go and get rid of your old non responsive theme already! Bushwick inspired by Medium. Bushwick is a lightweight, responsive blogging theme, designed to show beautiful content alongside beautiful imager. *Add a featured image to your post to show […]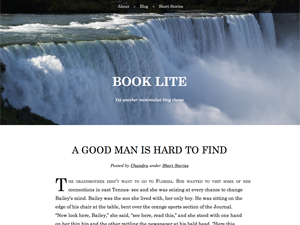 By S on January 23, 2014
Couple new themes added. Both themes are responsive so ditch the old school theme and give your mobile visitors a proper experience. Book Lite One column classic book style blog theme. Fully responsive, large fonts and very easy to read. Clean and Minimalist design with focus entirely on content — Content First. McKinley McKinley is […]