Michael Ha
By Michael Ha on July 20, 2012
Two new theme additions: Pilcrow (http://wordpress.org/extend/themes/pilcrow) Sunspot (http://wordpress.org/extend/themes/sunspot)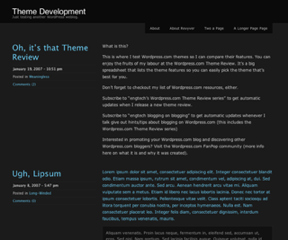 By Michael Ha on July 6, 2012
Added a dark single-column theme with a minimal, techy feel. This theme supports custom background, header and menu. Also supports featured image and featured header. It's built by Automattic!
By Michael Ha on June 29, 2012
San Fran is a blogging theme focused on typography and content. Several different color schemes to choose from. The typography and color are quite stand out – particularly the default orange color. Custom menu option are available. Intuitive and easy to use theme option.
By Michael Ha on April 23, 2012
On Tuesday April 23 between 4:00 – 5:00 PM, UBC Blogs will be upgraded to run on WordPress version 3.3.2. This is a security upgrade and no functional changes are expected with this release. No down time is expected.
By Michael Ha on December 21, 2011
On December 22nd, 2011, UBC Blogs will be updated to run on the latest release of WordPress. No down time is expected. The new WordPress 3.3 update improves the experience for both users and developers. For current UBC Blogs users, the most noticeable difference will be a new top administration bar. This video provides an […]
By Michael Ha on November 9, 2011
The "Feed Key Generator" plugin is now released for all UBC Blogs users. The plugin enables access to your private blogs' feeds through a 40 character key which you can give out to anyone that you wish to enable access for. Furthermore, you can always reset the key if you feel the current key might […]
By Michael Ha on February 8, 2011
Today we have performed a security patch for UBC Blogs. WordPress is now running the version 3.0.5 (changelog)
By Michael Ha on January 27, 2011
We've added a new plugin: FD Feedburner Plugin Redirects the main feed and optionally the comments feed seamlessly and transparently to Feedburner.com. If you are already using Feedburner.com, it's very easy to add an email subscription box to your blog.  Check out my blog post.
By Michael Ha on December 6, 2010
Plugin Description: Control the amount of time that the feed cache is stored for. (this time is important if you want to updates external feeds more reguraly)

By Michael Ha on September 23, 2010
This update changes the available options under the Profile page. The options are Public, Edit Profile, Change Avatar, Privacy Settings and UBC Info.