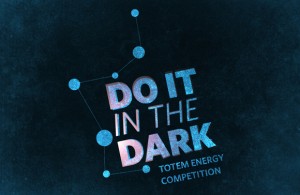 I feel like I'm in the 1800s, writing a letter with quill by candlelight. That's how little light I am using to read my EOSC 114 textbook right now.
Why am I putting myself and my poor, squinting eyes through this?
The answer: Do It In The Dark.
No, this isn't the punchline to a dirty joke (although if you can turn it into one, more power to you). Every year, all the houses in Totem Park and Place Vanier participate in a residence-wide energy-saving competition. We compete against other residence areas in UBC as well as over 39 other universities and colleges to reduce your electricity and water consumption as much as possible. In return, you get cool stuff and the bragging rights of being the most sustainable residence building.
Kwak has been slacking a little on the DIITD front so far, but today I badgered everyone to take the stairs, turn off the lights in the bathrooms, and air dry their laundry (I followed my own advice – every surface in my room is currently covered in drying clothes). I also put up these super cool 5-minute mini hourglass timers to help people reduce their shower times. One Salish RA has gotten his shower down to 30 seconds, so try and beat his record y'all.
Why go to all this trouble? In case you haven't heard, UBC is huge on sustainability. Not only did it coin the phrase "ecological footprint" and build the greenest building in North America–UBC offers 30 degree programs related to sustainability and tons of classes with a sustainable focus. Plus, frequent events like DIITD are especially great because they help students to become more conscious of their energy usage and think about the global impact their actions can have. Which is pretty cool, if you ask me (and you obviously do, since you're reading my blog right now).
Want to learn more about sustainability initiatives at UBC? Check out the Sustainability website. Also, if you're a current student interested in sustainability issues, you should think about getting involved with Common Energy or the Sustainability Ambassadors Peer Program. And if not, at the very least turn off the light when you're done in the bathroom (I'm looking at you, Kwak 6th ladies!).