Guys, cat cafés are so 2014.
Time to usher in the New Year with something new, something exciting. As humans, we should learn to embrace change, to push on forwards in revolutionary strides. Yes, without further ado, I introduce to you
the next level of the animal-to-human culinary experience: panda cafés.
However, unlike their feline-friendly counterparts, these cafés surprisingly do not house actual pandas. Considering how vicious these ursidae really are, you would probably find yourself being mauled into bite-sized pieces before your hands hit the utensils. Here, in Asagaya-minami, lies a charming little café called the "Panda Coffee Shop" which is solely decorated under the motif of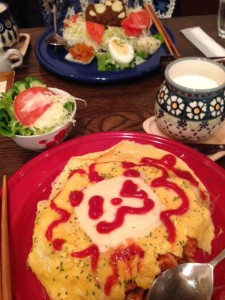 everyone's favourite black-and-white bear. Straight from the get-go, you're greeted by decapitated panda heads (more charming than you think). After you climb a short yet steep set of stairs, you open a dainty door that feels like you're entering someone's little home. Once inside, it is panda paraphernalia galore. Toys, coffee machines, scent diffusers… to the naked eye, there is nothing that escapes the monochrome domination.
Of course, this theme extends towards the food of this café as well. The menu consists of "comfort food" like a nice omelette rice (omuraisu) or curry. For my drink, I ordered hot milk. Chatting with several of my friends here was a relaxing experience. The ambiance was serene, the warm lighting: tranquilizing. The owners of the café were very friendly too. I have a feeling that if I lived nearby and made a habit of coming to this place to study, I would have become quick friends with them—or at least, very friendly acquaintances. Back when I had lived at UBC, I was a regular at the Great Dane. The owner there was impossibly sweet and that sensation of comfort and welcome is a wonderful thing.
The omelette rice was smooth, buttery and with a hint of sweetness. Rather than restaurant quality finesse, the dish was more akin to that of home cooking. "Just like Mama," as some would say (while swinging their wii-mote). The salad was dressed lightly, but the vegetables were fresh and delicious. It was just the thing needed to balance the richness of the omelette rice and milk. But before I dangerously tread the boundaries of food-blogging and travel-blogging, I'll stop now.
The Panda Coffee Shop was a very charming place, if not adorable to an umpth degree. If you ever find yourself in need of a place to fulfill your panda passions, this café is the place to go.