Last year I had an "aha" moment during a professional development session when we were shown the conflicting viewpoints of the Iranian hostage crisis through Google searches. The difference from Canadian Google versus Iranian Google was profound.  Depending on which country you searched from, you would have two entirely different accounts of the event.  As a history teacher, I'm aware that all history is biased and will vary depending on who writes it, however in this day and age, I was shocked to see such a stark difference from the same platform provider.
At the beginning of each year (being a teacher my "New Years" is September 1st) I make a personal finance, fitness, and intellectual goal for myself.  This year my intellectual goal is to "challenge my confirmation bias".  I feel that I have always been a person open and respectful to others ideas, however, I've become more self-aware that my sources of information are from limited sources.
A recent revelation pertaining to this was after watching a Vice HBO Episode titled: 'Post-Truth' News & Microbiome.  In this discussion, it showed Parallel Narratives of Twitter data surrounding journalism and Clinton/Trump supporters.  Following only Clinton or Trump was an indication that your information circles only covered either left wing or right wing topics. As Vice puts more eloquently "[the] support had an effect on a user's information flow as people seemed to cut themselves off from users who supported a different candidate."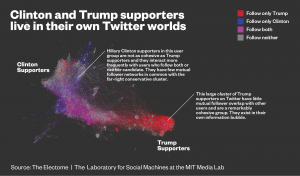 For more information on Vice's story and Electome's Analytics click here
If "following" is seen as supporting, then it will be difficult to break this segregation of information for fear of reprisals from peer groups.  But maybe this is what we need.  Following Trump and his supporters may help to bridge the gap in our understanding of each other.  While I think (at least I hope) that the same degree of polarization does not exist between Canadians and Indigenous peoples presently, I wonder, are we making an effort to truly understand and "follow" each other?
Bringing it back to our topic; focusing on my goal and engaging in this course has made me analyze my current practices. How can we break free from our singular narrative bubble and actively seek Indigenous community members both locally and nationally to "Follow"?  Indigenous Tweets and other platforms of the like might be a good springboard to find new sources of information.  Moreover, reviewing and reiterating our current practices for searching for literature. Pivoting from UBC summons and Google Scholar to Indigenous databases and Index's such as the Indigenous Peoples North America and iPortal: Indigenous Studies Portal databases.  Searching through these 'new' mediums I found significantly fewer 'hits' for the subject matter I was looking for, however, what I gave up in quantity I found in quality with literature that was reflecting a new perspective.