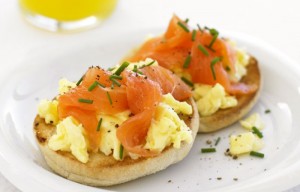 August 2015. Four people sickened by Listeria in fish products linked to fish company, Hjerting Laks, in Denmark. Earlier in May, five cases of Listeria with two deaths were detected in Denmark. Two out of the five were of the same strain of Listeria that caused 40 cases and 16 deaths in deli meats in 2014. Although the current outbreak is not linked to the one last year, one of the five in May was traced back to Hjerting Laks.
Unique culprit. While all tested samples did not reveal to have Listeria above the accepted limit, the Danish Veterinary and Food Administration (DVFA) found that Listeria isolates from the patients and samples taken from the company's production area, equipment, and official food samples gave a DNA match after whole genome sequencing. The Listeria monocytogenes ST6 sequence pattern specific to this outbreak has not been detected in samples from other sources.
Suspect: smoked fish. The source of infection in exact products has not been confirmed by the DVFA, but smoked salmon was suspected due to patients' common consumption prior to illness. An outbreak of Listeria connected to Hjerting Laks was related to smoked halibut in November 2014, after which changes in the production processes were made. Hjerting Laks states that the bacteria from the current outbreak may have originated from raw materials supplied by sub-contractor.
"We have ordered the company to change its routines with regards to production and own-check scheme," says Annette Perge, head of unit in the DVFA. "Tightened supervision" has been placed on the company, and DVFA has advised customers to discard related fish products or return them to the place of purchase.
Listeria monocytogenes. A gram positive, facultative anaerobic bacterial species capable of causing infections that may lead to symptoms of fever, muscle aches, and diarrhea. Populations including those with compromised immune responses due to age, pregnancy, and disease are typically at higher risk for listeriosis, with possible deadly effects on fetus and newborn infants. The primary route of transmission for this pathogen is through food, and especially in ready-to-eat foods that support bacterial growth of L. monocytogenes.
But smoked fish? Yes, smoked fish. Smoked seafood including salmon, trout, tuna, oysters, etc., are manufactured in two primary forms: cold-smoked and hot-smoked product. Typical temperatures used for cold-smoking (22-28°C) are inadequate to inactivate L. monocytogenes, but levels of the pathogen present on raw salted fish are usually reduced by 90-99% during the cold-smoking steps of salting, drying, and smoking. Hot-smoking involves initial drying at 30-40°C, then smoking at 60-70°C followed by a second drying procedure. However, products may be contaminated after both cold and heat treatment in the processing environment while products are sliced and vacuum packaged. It also doesn't help that Listeria can grow at refrigeration temperatures and is relative resistant to heating, acidic and high salt environments, as well as other inhibitory compounds used on foodborne microorganisms.
See diagram. Production process has multiple opportunities for contamination. (Where else do you see places for Listeria to sneak in?)
Recommendations for persons at high risk (weakened immune system) from the CDC:
Do not eat refrigerated smoked seafood, unless it is contained in a cooked dish (e.g. casserole)
Refrigerated smoked seafood, such as salmon, trout, whitefish, cod, tuna, and mackerel, is most often labeled as "nova-style," "lox," "kippered," "smoked," or "jerky." (These are typically found in the refrigerator section or sold at seafood and deli counters in grocery stores)
Canned and shelf stable tuna, salmon, and other fish products are safe to eat
Reduce risk for listeriosis from smoked fish by… Using ready-to-eat foods as soon as possible (product's shelf-life shortens upon opening the packing). And remember to practice good hygiene in the kitchen!
News sources:
Listeria traced to Hjerting Laks despite fish products passing tests. (Aug 2015). http://www.foodqualitynews.com/Food-Outbreaks/Denmark-investigates-four-Listeria-cases-linked-to-fish-producer
Denmark investigates new Listeria outbreak. (May 2015). http://www.foodqualitynews.com/Food-Outbreaks/Listeria-sickens-five-and-a-factor-in-two-deaths
References:
Joint FAO/WHO Activities on Risk Assessment of Microbiological Hazards in Foods. Case Study: Listeria monocytogenes in Smoked Fish (including digram). Retrieved from http://www.fao.org/fileadmin/templates/agns/pdf/jemra/Listeria.pdf
Report of the FAO Expert Consultation on the Trade Impact of Listeria in Fish. Retrieved from http://www.fao.org/docrep/003/x3018e/x3018e05.htm
Center for Disease Control and Prevention. Whole genome sequencing. Retrieved from http://www.cdc.gov/listeria/pdf/whole-genome-sequencing-and-listeria-508c.pdf
Center for Disease Control and Prevention. Tips for preventing Listeria poisoning. Retrieved from http://www.cdc.gov/ncezid/dfwed/pdfs/tips-preventing-listeria-508c.pdf
Image retrieved from http://www.rivertea.com/blog/7-healthy-breakfast-recipes-for-every-day-of-the-week/