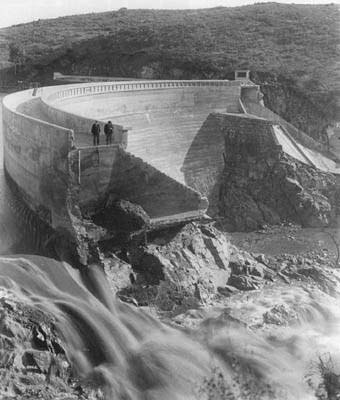 (Dam collapsing, Wikimedia Commons licence.)
Reading Thomas King's Green Grass, Running Water is immensely rewarding – it provides a look into the lives of contemporary First Nation peoples as well as those on reserves.  King has spent quite some years at the University of Lethbridge, located in Lethbridge, Alberta, and close to the Kainai First Nation (Blood Tribe, traditional Blackfoot territory).  Some of the characters in Green Grass, Running Water could have walked off the region into the novel.  Speaking of characters, they are alive.  King is successful as a storyteller because he has created the characters and then let them live their lives.  Below is an analysis at a point of impending doom from the tension and the water in the dam.
Alberta Frank (pp. 304-311)
Alberta is the very likeable character in Green Grass, Running Water.  She is intelligent, independent, and harms no one.  Okay maybe eventually she will harm one of Lionel and Charlie, but not maliciously – choice is in the nature of romantic relationships.  At this point of the plot, she has lost her car, and many things are just going wrong for her – marriage, kids (King 304-6)?  How First Nation does she want to be, or how white?  When Alberta breaks down in front of Connie the police officer, the reader could be relieved – she deserves the emotional release and company (King 309-11).  She is likeable for her strength.  Unlike Charlie or Lionel, she does not try to run away from her identity.  Instead, she does things like presenting history from the First Nation perspective as an academic (Horne).  She refuses to be subversive to the settler culture (Horne).  Alberta Frank is relatable – she is human with mortal weaknesses.  She asks existential questions like what should come of life.  At this point, she has "… [t]wo men, a good job, no responsibilities", yet, she is not happy (King 309).
Dr. Joseph Hovaugh (pp. 312-315)
Continuing with existentialism – what does Dr. Hovaugh live for?  With his name being a play on the Judeo-Christian creator, is he omnipotent (Flick 144)?  He certain does assign significance to his things – the antique office desk from his wife, and the Karmann-Ghia convertible, for example.  He remains fairly flat in the narrative, and remains mostly as a keeper of order in the mental institution and garden.  Dr. Hovaugh is uncomfortable in Canada due to its "openness to the sky", "wideness to the land", and being generally disorganized" (King 312-4).  He is quite aware of his place in the hierarchy as a doctor and institution head.  This attitude is expressed in his interactions with Babo, who is dismissed by him as inferior.  He asks if her ancestors have been slaves – as small talk.  The question is answered eloquently by Babo: "Nope…  But some of my folks were enslaved" (King 313).  It is unclear if Dr. Hovaugh truly understands the difference.  Though given authority, he is fairly incompetent at tracking down the escapees.  The powerlessness is dramatized as he shouts and motions in the storm over his lost car (King 315).  He, the creator with his order and garden, keeps the First Nation creators as prisoners (Cox 231).
Lionel Red Dog (pp. 316-322)
Lionel is a different kind of prisoner – that of fate.  Things tend to go wrong for him, ever since he has been shipped to the Toronto hospital as the wrong sick child, fate has continued to play cruel jokes on him.  He works at Bill Bursum's television and stereo store, after accidentally becoming a felon in the United States and losing his government job as a result.  King's portrayal of Lionel is very believable because it is balance – he has faced discrimination, but he also contributes to his own fate.  For example, Lionel has planned to go back to university, however he has not acted.  And here he is at the store, age forty, with his new jacket (King 316).  Guess what is playing on the television map?  It has to be a western, starring Portland Looking Bear and John Wayne – the latter being Lionel's hero since young age.  What is forthcoming is a decisive moment for Lionel, who has been accused of self-oppression and wanting to be white (Deshaye).  What is forthcoming is a gift and a boost – he needs it, after losing his government job, not wanting to be involved with his band, not going back to school, and probably not winning Alberta Frank's love.  This time, John Wayne dies (King 324).  This time, Lionel Red Dog sees a different reality; quite a gift from the four tricksters.
Works Cited
Cox, James H.  "All This Water Imagery Must Mean Something: Thomas King's Revisions of Narratives of Domination and Conquest in Green Grass, Running Water."  American Indian Quarterly 24.2 (Spring, 2000): 219-46.  Web.  25 Jul. 2016.
Deshaye, Joel.  "Tom King's John Wayne: The Western in Green Grass, Running Water."  Canadian Literature 225 (Summer, 2015): 66-80,167.  Web.  25 Jul. 2016.
Flick, Jane.  "Reading Notes for Thomas King's Green Grass Running Water." Canadian Literature 161-162 (Summer/Autumn, 1999).  Web.  25 Jul. 2016.
Horne, Dee.  "To Know the Difference: Mimicry, Satire, and Thomas King's Green Grass, Running Water."  Essays on Canadian Writing 56 (Fall, 1995).  Web.  25 Jul. 2016.
King, Thomas.  Green Grass, Running Water.  Toronto: HarperPerennial Canada, 1999.  Print.