The Web Content Accessibility Guidelines (WCAG) documents are a resource for web developers to design a site that is accessible to people with disabilities. Created in 1999, version 2.2 is scheduled to come out in 2021. Many thanks to Ben Zaporozan for introducing me to the WCAG standards!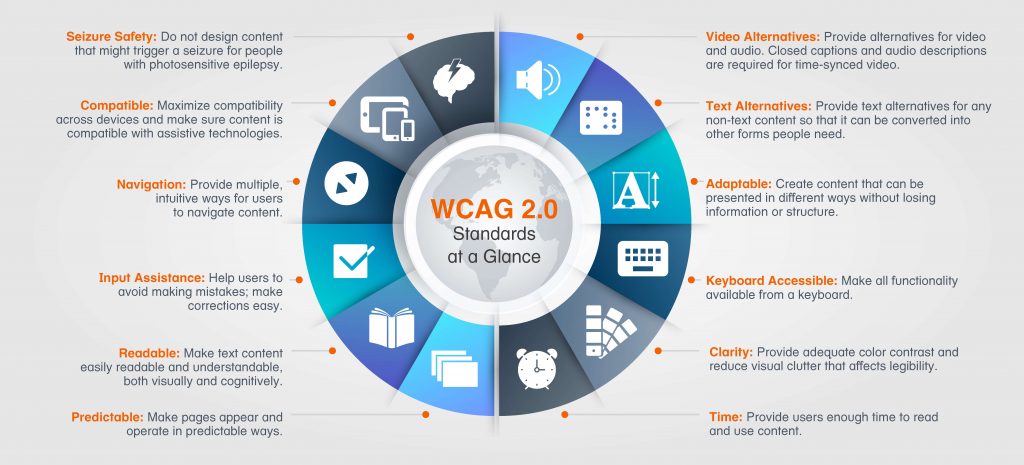 In the United States, digital accessibility is a legal requirement. Since 2010, the issue of digital accessibility has been questioned and resolved, with lawsuits under the Americans with Disabilities Act (ADA) against non-compliant companies. In Canada, we have the Accessible Canada Act (ACA), and lawsuits for non-compliance as well.
The fact that we needed lawsuits to develop digital accessibility is now an unfortunate reality. The idea of creating a standard that all websites can be built upon is also a reality. This very real guide, the WCAG has complimentary digital tools that developers have created to make assistive technologies easier to produce.
There are two sites I would like to highlight with regards to accessibility.
The a11y project is an open source collaborative that provides source codes for various aspects of web and mobile design and development.
The website aCe.accessible offers a free accessibility test on any website, with a 50-point checklist to improve the site that can be sent as a PDF to your email.
I encourage you to try out your more frequently visited sites, to test their accessibility to the WCAG standards, and to contact that site with the results.
Let's open doors for everyone!
Links to sources:
https://equalentry.com/digital-accessibility-lawsuits-in-2019-a-year-in-review/
http://pitt.edu/~tyt3/wcag/wcag.html
https://www.accessibility.com/digital-lawsuits/recap/february-2021
https://www.cbc.ca/news/canada/blind-woman-wins-case-against-federal-government-1.956042
https://www.essentialaccessibility.com/blog/ada-guidelines
https://www.hurix.com/wcag-quick-facts-and-guide/
https://www.thegenius.ca/businesses-need-have-their-websites-aca-compliant-to-reach-all-potential/
https://www.w3.org/WAI/standards-guidelines/wcag/
---