GeoRox strives to create opportunities for students to connect with one another, faculty and industry members. A few of our most distinguished events and opportunities are outlined below. If you or your company would like more information about any of these events/programs, please email the contact listed at the bottom of the respective event summary or see the "Contact Us" page for general inquiries.
---
Geotechnical Engineering Competition | Undergraduate Competition
The Geotechnical Engineering Competition (GEC) is a competitive event spearheaded by GeoRox back in 2013. In teams of four (required to have a 2nd, 3rd, and 4th year on the team), students compete against each other with regards to a simulated geotechnical problem. The teams are given six hours to apply their skills and knowledge in order to come up with a solution. At the end of the allotted time, they are to present their findings to a panel of judges.
The students have an opportunity to enhance their technical and non-technical skills by competing.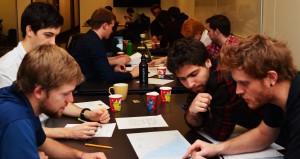 Students in 2nd and 3rd year are introduced to software systems that industry uses on a daily basis. Students in 4th year have the opportunity to practice their leadership and managerial skills. All students have the opportunity to connect with industry members who are sponsors and judges of the competition.
With two wonderful VP Academics, Eric Tilley and Emily Bolten, as co-chairs of GEC 2015, we had another successful competition year! For any GEC related inquiries, please contact Eric Tilley and Emily Bolton. Congratulations to the winners!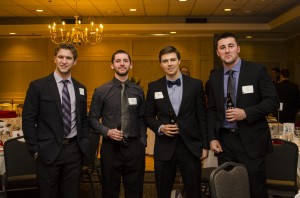 Annual Alumni & Industry Dinner | Networking Event
For the past 14 years, the GeoRox Alumni/Industry Dinner has brought together industry members, alumni, and students together for a night of dining and networking. This event provides an excellent opportunity to share university and workplace experience, and to expose students to a variety of employment opportunities. Industry support for this event has been essential to it's tremendous success, and allowed it to grow and improve each year. Last year, industry funding also made possible our annual grad trip, on which students toured educational sites, such as the Grand Canyon, the Eldorado Canyon Mine, and the Hoover Dam.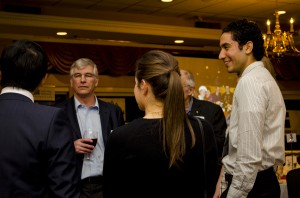 GeoRox is excited to plan the 15th Annual Alumni/Industry Dinner next January 2017. With incredible industry sponsors, active alumni, and motivated undergraduate students, we look forward to another successful dinner!
Lastly, we would like to thank our current VP-External Jack Park for making this years event a success.