We would like to thank our guest speakers, Dr. Suzanne Lenon and OmiSoore H. Dryden for their amazing, provocative and insightful talks at the Homonalism in Canada lecture yesterday. Also thank you to many people who came and participated in the engaged conversations. Lastly, many thanks to the Liu Institute and Critical Studies in Sexuality for their generous supports.
For those who missed the talk, the presentations were recorded, and will be posted on this blog soon.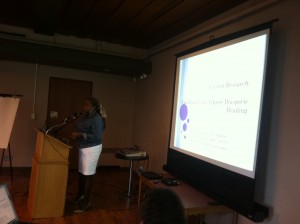 It is amazing that we have successfully hosted a series of events (including the workshop by Val Kalende, Film screening with Dr. Chris Dolan, Queer U panel, and the Homonationalism lecture) in such a short time since we formed this group. We shall carry on with this momentum and look forward to working with the new members and colleagues. We will meet again soon to discuss other day-to-to activities (Reading group, research seminars, social events) for the rest of 2012, so please make sure to follow this blog or the GQRG listserv for updates!