ENGL 301 Assignments
Commentary
Definitions Assignment
"Any fool can know. The point is to understand." as Albert Einstein once said. I believe the best metric for the quality of a definition is the measure of comprehensiveness. Students were assigned to choose a complex term relevant to the industry you work and/or study and write a parenthetical, sentence and expanded definition. The word I picked was "Distributed Systems" relevant to the software and technology industry. This term is starting to become more common among the software industries as cloud computing and the Internet of Things is becoming a much more viable software solution for many business sectors.
Formal Research Proposal 
This assignment consisted of writing an in-depth formal research report on a topic of your choice related to your past work/volunteer efforts. My research report proposal illustrates a way to increase student motivation and project submissions for nwHacks, an event I previously overlooked. After analyzing the lack of motivated students at nwHacks, I became interested in determining how the underlying source behind this.
Bad News and Complaint Letter
Students were assigned to write a B2C (Business to Customer) document which really focused on writing with a "YOU" attitude. Part of the criteria behind the assignment was to focus on withholding stress/frustration because it may entail to writing an irrational letter. My assignment was a complaint letter to Lyft, the ride sharing company, regarding a poor customer experience.
Revised Assignments
Revised Definitions Assignment
Term: Distributed Systems
Situation: Steph Jobs the CEO of Pear, Inc is holding an investor meeting for Series C funding.
Parenthetical Definition: A cluster of computers handling a task together which appear as a single computer to a user.
Sentence Definition: A network of computers which are all connected continuously interacting with each other and sharing resources in order to achieve a common goal.
Extended Definition: The term "Distributed Systems" relates closely to the Internet. Distributed Systems rely on sharing a common network in order to send signals and share resources with other distributed computers. The first use of distributed systems occurred in the 1970's, when ethernet was invented. (Caruso, 2011) The use of widespread distributed systems allows us to store our content on the cloud.
The terms distributed systems and a network are often misunderstood. Furthermore, a network allows machines and computers to exchange data, while operating independently between one another. In contrast, distributed systems consist of computers but coordinate among each other to form a single system.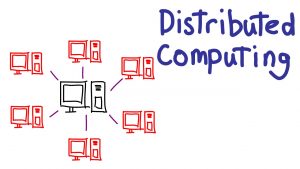 As the market for technology grows, more companies are now dependent on using distributed systems in order to scale their products. (Do, 2019) For example, we often see people starting to transition to RF/NFC (Radio Frequency/Near Field Communication) payments like Apple Pay instead of using their credit card, so Apple must create their own cloud network to handle the traffic.
Sources
Do, Minh Nhat. "Corresponding Formal Specifications with Distributed Systems." Nanyang University, 2019.
Caruso, Jeff. "Living Legends: Ethernet Inventor Bob Metcalfe." Network World, Network World, 9 May 2011, www.networkworld.com/article/2202019/living-legends–ethernet-inventor-bob-metcalfe.html.
Peer Review of the Definition Assignment
To: Eric Chang
From: Jason Smith
Date: Sep 28th, 2019
Subject: Peer Review of Definition (Term: Imaginary Numbers)
All in all I think this is a very good definition of Imaginary Numbers. The definition included a good introduction to Imaginary numbers by providing visual and written examples; such as the two main parts. The definition also used words that could be understood by a non-mathematical crowd.
I believe a more concrete example of how Imaginary numbers is used in real world applications would allow the reader to better conceptualize the usefulness of Imaginary Numbers. Overall, you kept the definition quite simple and I don't think many people will have an issue understanding this.
Formal Report Proposal + Progress Report + Surveys
Formal Report Proposal
To: Dr. Erika Paterson
From: Jason Smith
Date: Oct 9th, 2019
Subject: Proposal for Increasing Hackathon Submissions
Introduction 
nwHacks is a hackathon run at UBC by the student club nwPlus. The Hackathon's primary focus is to gather students related to fields in computer science, engineering and graphic design, encouraging them to innovate solutions to common world issues. At the end of the event, teams present their projects to a panel of judges in order to determine the winners. nwHacks has major aspirations to keep students engaged and motivated for the duration of the event, such that quality projects are presented at the end.
Statement of Problem 
This report will probe the amount of students that start a project and give up before the end of the hackathon, as well as the quantity of students that do end up finalizing a project. Over previous events, nwHacks has consistently struggled keeping students engaged and motivated throughout the entire 24 hour period of the hackathon. Consequently, the club executives are worried that students are attending the hackathon for free swag, food and not for the true purpose of learning and submitting a project for presentation. For this reason, I need to explore a new strategy in order to keep students motivated throughout the entire hackathon, and make sure they end up submitting a project at the end. Ultimately, the goal here is by finding the reason why students lose motivation, I will be able to propose a solution which will rectify hackathon participant issues.
Proposed Solution 
A solution here is to provide all hackathon attendees with a common need in order to keep them motivated. This may be better distributed mentorship, prizes for submitting a project and possibly better career opportunities. By providing all attendees with the appropriate accommodation, they will reciprocate with staying until the end of the hackathon and successfully submitting a project. Presently, the underlying issue behind why the majority of hackathon attendees leave early or don't submit a project is unknown, so by probing prospective and past participants, I will be able to develop an appropriate strategy and approach to keep students motivated.
Scope
To assess the feasibility of this solution, I will explore the possibilities with these questions:
What percentage of students submit and don't submit a project?
What percentage of students feel unmotivated during a hackathon?
Which methods exist to currently keep hackathon participants happy and motivated?
What causes students to feel unmotivated during a hackathon?
Methods
My data sources will include surveys across past and prospective hackathon participants
My Qualifications
I'm currently entering my 5th year as a Computer Science major at UBC. My background includes over two years of sponsorship and marketing positions for Hackathons. In addition, I have experience working with quantitative measures and analytics from my academic background. My connections with the current nwHacks executives increase potential for an in-depth study.
Conclusion
nwHacks needs to strategize a solution to make sure hackathon participants actually end up submitting a project at the end. Consequently, by observing my inquiries above, I will be able to conclude if providing appropriate accommodation such as prizes or mentorship is a valuable approach for nwHacks to focus on. In conclusion, with your approval I will start my research.
Formal Report Progress Report
To: Dr. Erika Paterson
From: Jason Smith
Date: Nov 19, 2019
Subject: Progress on ENGL 301 Formal Report
I am writing to inform you on the progress I've made on my formal report about increasing hackathon submissions for nwHacks 2020. This progress report outlines the audience, the purpose of the report, research plan, and a writing schedule for the report. Attached is also a document with survey questions I intend on asking audience members.
Audience
Anita Tse, Co-president of nwHacks for the current academic year
Max Leung, Ex-President of nwHacks for the 2016-2018 academic years
Patrick Lin, Ex-Treasurer of nwHacks for the 2016-2018 academic years
Ex nwHacks attendees @UBC
Purpose of Report
To discover additional avenues for motivating students to submit projects
To determine alternative incentives to give out for submissions and winners
Significance
To provide strategies which will attract students towards submitting a project
To provide the nwHacks team with additional methods for motivating students to submit a project
Research Plan
Study techniques that are more likely to psychologically incentivise students to submit their project
Conduct interviews with current nwHacks organizers to analyze their current strategies to motivate students
Concatenate survey responses
Aggregate prospective attendees answers for a better hackathon experience – helping students submit their projects
Writing Schedule
Nov 19-23: After instructor approval, send surveys to previous and prospective nwHacks attendees on Facebook
Nov 20: Complete Formal Report Introduction
Nov 23-29: Refine survey data and perform analysis
Nov 30: Construct conclusion for the Formal Report
Dec 4: Draft of Formal Report
Dec 10 – Dec 12: Modifications and cleanup for Formal Report based on fellow peer reviews
Dec 19: Conclude formal report (Due date)
Thanks for reading my progress report. If you have any questions or concerns please feel free to contact me.
Enclosure:
ENGL 301 Formal Report Survey Questions
Revised Survey Questions
ENGL 301 Formal Report Survey Questions
Name: Jason Smith
Student #: 13566154
I am currently an undergraduate student at the University of British Columbia studying Computer Science. This survey will be used for data analysis for the class of ENGL 301 – Technical Writing. This survey is intended for a diverse range of students planning to attend nwHacks 2020. It is meant to determine various motivational methods and incentives to increase hackathon submissions this upcoming year.
Estimated time to complete: 5-10 minutes
What year are you in?

1st Year

2nd Year

3rd Year

4th Year

Other

What is your current faculty/major?

Have you previously attended nwHacks?

Yes
No

Would you be more inclined to submit a project if there were prizes that you valued more?

Yes
No

What category of a prize would you value the most?

Cash Pool
Electronic Products (Laptop/Tablet/Phone)
Software Products (Photoshop/Sketch/IDE)
Technology Conference Tickets + Travel Reimbursement
Other

Please outline a specific prize you would like to see in the next nwHacks

If submitting your project gave you a better shot with landing an interview with one of the sponsors, would you be more inclined to submit?

Yes
No

If there were workshops on presentations before submitting a project, would you be more inclined to submit?

Yes
No

Are you planning to submit a project regardless?

Yes
No

Any additional comments?
Revised Complaint letter and Response Letter
Complaint Letter
9999 Broadway St.
Vancouver, BC
V1V 2A2
Nov 28, 2019
Lyft HQ
548 Market St
San Francisco, CA
94104
Subject: Rude Driver
Dear Lyft HQ,
I am writing this letter with regards to a recent Lyft trip I took on November 5th, 2019. I have been a loyal customer for many years now and I am dissatisfied by my recent experiences with my Lyft driver.
On November 5th, 2019 I took a trip from Apple HQ, Cupertino to the Emeryville train station at 5:30pm. My driver was Elliott Choy, license plate AAA 111. After hopping into my Lyft, my driver told me I'm carrying way too many bags, even though I only had 3. My driver Elliott started telling me that if I want to hop in his Lyft with this many bags I would need to provide him with at least a $10 tip at the end of this ride. Of course I told him I would because I didn't want to be late for my train ride so I played along. During the ride he started road raging throughout the entire ride because of how bad the traffic was. In the midst of his road rage he decided to take it out on me and yelled "Get out of my car this traffic isn't going anywhere". I felt violated by his actions so I decided to just get out of the car, however because I had to get out and call another Lyft, I ended up missing my train ride.
To rectify this problem, I would like my trip refunded to my credit card and be provided Lyft credits to compensate for my missed train ride.
Thank you for reviewing my situation. I use Lyft quite often and I have enjoyed all previous rides, however I am just disappointed that I had to experience something like this.
Warm Regards,
[Signature]
Jason Smith
Bad News Adjustment Letter 
Lyft HQ
548 Market St
San Francisco, CA
94104
November 28, 2019
Jason Smith
9999 Broadway St.
Vancouver, BC
V1V 2A2
Dear Mr. Smith,
Thank you for contacting Lyft Customer Support. We are very sorry to hear about your unsatisfactory trip with Lyft on November 5th, 2019. At Lyft we value customer satisfaction and reliability, your feedback will allow us to continue providing safe and professional rides across the globe
I have reviewed your ride and we have talked with the driver – taking the appropriate measures and disciplinary actions we felt was deserved. On November 5th unfortunately traffic was especially heavy due rush hour and which is why your ride was taking a long time. I apologize for your missed train ride.
I have taken appropriate actions and refunded your trip cost in the form of Lyft ride credits. You should see your credits appear in your account within the couple business days.
Thank you for reaching out to us. Your feedback is very important to us. Please feel free to contact me at miguel@lyft.com should you have further concerns.
Best Regards,
Lyft
[Signature]
Miguel Moya
Customer Service Representative
Peer Review of a Formal Report
To: Erfan Ahmed
From: Jason Smith
Date: Dec 15th, 2019
Subject: Peer Review of Application Package Draft
Hi Erfan,
I have fully reviewed your draft application package.  Firstly, you are a very strong candidate and most definitely a valuable commodity to the logistics and operations industry. Your work experience is notably impeccable and your resume should be enough in order to get an interview for most operation and event planning positions. Your cover letter does a great job at describing your previous work experience, however there are a few improvements I suggest below.
Resume (Outline)
I like the structure of your resume, it is very organized and in a format where I am able to easily notice all your highlights. I like that you are including your education at the top, this works very well for new grad positions because it allows recruiters to easily determine your graduation date. Your bullet points get straight to the point, and your categories are well organized. I don't have any suggestions in terms of the structure
Resume  (Content)
Your resume is filled with great experience, I can easily tell that you are a well qualified candidate as you've worked multiple positions with various responsibilities which make you a valuable asset for an operations position. I don't really have much feedback here.
Cover Letter
I think that your cover letter does a great job at illustrating a high level idea of your experience, however I do think you could get into a little more lower level details to describe how your previous jobs match the current requirements of the job you are applying for. I would suggest going into depth about how your past experiences made you more "responsible" and "detail oriented". One of the requirements of the position suggest you have previous experience in quality assurance. You could possibly give some quantitative measurements of the impact you brought to your company at Change Healthcare.
Reference Requests 
All 3 reference requests are included in your application package, nice work. You seem to have left a great mark at your previous companies, and the tone you give sounds appropriate given the relationship you had with your managers. Your tone is professional and gets straight to the point of what you want.
Overall, your application package illustrates that you are a very strong candidate. I think given your experience you have a very good shot at scoring interviews at Whistler Blackcomb. I hope that the suggestions I have outlined for you help craft a stronger application package.
Please do not hesitate to contact me if you have any other additional questions, you can reach me at jsmith@alumni.ubc.ca
Good Luck!
Best Regards,
Jason Smith