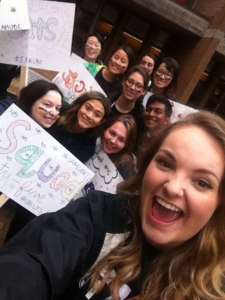 Katie Mack (far left) and members of her Squad, September 2015.
My first year at UBC was less than ideal. I was overwhelmed and felt completely alone all year; it was a difficult year. I made it through and managed to make a few friends along the way. My second year showed me there was more to do on campus outside of class and it allowed me to feel connected to my university for the first time. In my third year I wanted to give back to the communities that made me feel included and I wanted to pay it forward. I was an orientations leader for only one year, but the experience inspired me to become a squad leader for the last two years.
Through leading others, I realized I knew a lot more about my campus and faculty than I thought I did, and it helped me feel closer to the UBC community. There were also endless resources to help me learn even more. I had the opportunity to make a difference in the life of a new-to-UBC student. As that first point of connection, you have the opportunity to help shape someone's UBC experience. It is a responsibility, but I also think it's a deep honour. Being a leader can mean facilitating relationships that might not have come about without you! You could connect future lifelong friends, and even make a few of your own. For new-to-UBC students, it's reassuring to recognize people in their classes and exciting when they see your familiar face on campus later on. You might debunk a myth and allow a new-to-UBC student to panic less and participate more. You may inspire someone else to carry on a campus leader tradition and impact the next UBC generation.
Being a part of orientations is a great experience from start to finish. The interview is surprisingly fun and enjoyable. You learn a lot at the in-person training, build relationships with other leaders, and you get to keep in touch with the people in your squad over the summer. There's friendly competition and the opportunity to make friends within your squad or become better friends with acquaintances that might be in your squad! It's also a second chance (or third, or fourth in my case) to go through Imagine Day. As a leader, you're not new to UBC, so you'll get to experience the thrill of another pep rally and this time you might actually remember the cheer! It can sometimes be hard to see where you fit in the grand scheme of UBC, but being part of orientations can bring purpose and it will remind you that you can, and are, making a difference.
–  Katie Mack, 5th year FNH
Apply to be an Orientations Leader today. Applications close on January 31st.